A
A
A



Topic RSS

Chadwell's Staion - Fiddling on the Frontier
A Review





(1

votes)

MoonShadows
Stroudsburg, PA
April 3, 2019 - 5:51 am
Member Since: January 30, 2019
Forum Posts: 636
Early American Frontier music never sounded so authentic in the 21st century until you hear Christian Wig play his fiddle accompanied by Whitt Mead on the banjo in Chadwell's Station, one of four albums in Wig's collection, Fiddling on the Frontier.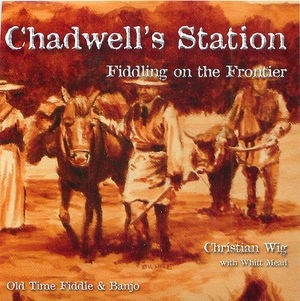 Like the other albums in this collection, Chadwell's Station is a marvelous group of twenty-two tunes played on the Eastern Frontier before 1840, not your familiar Soldier's Joy or Fisher's Hornpipe, but a blending of musical traditions from different regions. Of the twenty-two tunes on the CD, there are 11 solo fiddle, two solo banjo, and the rest fiddle-banjo duets. These are some of the lesser-known tunes played by ordinary common folk in their local styles. What makes this album even more of a treat is thirteen of the twenty-two tunes are from the Hamblen Collection, a collection of violin tunes, popular during the early 1800's as played by David Russell Hamblen (1809-1893) and his son Williamson (1846-1920) arranged and copied by A. Porter Hamblen (1875-195-) son of Williamson.
Chadwell's Station was both a stop-over on the Wilderness Road for early settlers traveling west through the Cumberland Gap and a defense against Indian attacks along the frontier. Conflicting accounts of its beginning exist, but it is probably that Captain David Chadwell established his station in 1778 about a mile west of the present day Ewing, VA.
This tune is a sample of Chadwell's Station (the song)
Since there are no original recordings, only notation, no one knows exactly how these tunes sounded when they were first played by these early fiddlers all those many years ago, but Wig and Mead have painstakingly worked to interpret the notation using their vast knowledge of early American fiddle music. You can close your eyes and imagine you are in Chadwell's Station. You have stopped for a rest and supplies as you journey your way across this vast, young nation. You are enjoying a well-deserved break, listening to the fiddlers wind their tunes, and perhaps you even do a bit of dancing, losing yourself, momentarily escaping from the realities of this early period when folks struggled to stay alive and put down roots in a place they could call home.
Wig and Mead make these tunes come alive for a new generation. They play them with heart, soul, and understanding, capturing the true sound of the early American frontier. This CD is a true delight for anyone who is interested in early American music and history!
Pictured above - Christian Wig
The tri-fold CD holder is beautifully designed in and out with a painting of Bryant White's Train Leaving which he painted especially for this project. Included is a fourteen page booklet documenting a brief history of Chadwell's Station, a discussion of the source fiddlers whose original work is the basis for this album, and a synopsis of the background of each tune played, in addition to some photos of early fiddles and banjos. This album presentation and music make it a definite collector's item, one I am very happy to have, and you will, too!
To read more about Christian Wig and his music, visit his website, Christian Wig ~Musician~Artist~Silversmith.
In addition to Chadwell's Station, I also purchased the other three CDs rounding out this collection:

April 3, 2019 - 3:33 pm
Member Since: August 28, 2013
Forum Posts: 993






Oh that was interesting.  Thanks for sharing. 
Opportunity is often missed because it wears suspenders and looks like hard work.

Forum Timezone:
America/New_York
Most Users Ever Online:
696
Currently Online:
,
stringy
Currently Browsing this Page:
1
Guest(s)
Members Birthdays

Today
reedc83, Fashionandfiddle
Upcoming
anonkid, KindaScratchy, freesbee, paulinefiddle, Allenph, oneloudmime, MsJoy, ARCoyne, Gringo, Sandybourne, Ripton, Space., loveluach, husseinHr, Guido, A. V. Suvorov, Scrap, DennisS, JiminTexas, mcwey
Top Posters:
ELCBK: 4709
Mad_Wed: 2849
Barry: 2680
Fiddlestix: 2647
ABitRusty: 2526
Oliver: 2439
DanielB: 2379
Gordon Shumway: 2033
damfino: 2027
Kevin M.: 1973
Member Stats:
Guest Posters: 3
Members: 31075
Moderators: 0
Admins: 7
Forum Stats:
Groups: 16
Forums: 79
Topics: 9810
Posts: 123530
Administrators:
Fiddlerman: 16040, KindaScratchy: 1759, coolpinkone: 4180, BillyG: 3741, MrsFiddlerman: 2, Jimmie Bjorling: 0, Mouse: 4054
©
Simple:Press
—