A
A
A



Topic RSS

Update Top Off Fer Repairs
Pre WW1 German Strad ...stopping and prep for mid repair storage ..





(0

votes)

November 17, 2014 - 6:14 pm
Member Since: September 19, 2013
Forum Posts: 234

Offline
Sooo , due to things beyond my control it is sadly forced me to put this aside fer now ...
If you've followed this thread earlier you'll know that the tail end block is removed and the lower ribs detached in that area with a center seam open under the tail piece area of the top in need of fixing ....
What to do when life throws lemons at ya ? Make lemon aid and put yer parts in a box 'til ya can get back to it ? Bet you'll find some warped stuff when ya look again ...
Best to clamp 'er up after cleaning and fitting the glue areas ...in this case the top was off so ...clamp 'er back on ...
If you were just in need of fixing an open edge seam without removing the top , just clamp that area /s ...
I like these straight pull mini clamps because they are quick and unless yer a space cadet you won't over tighten them ...
After a good dry fit and clamping yer top on yer good to go fer storage untill ya can get back to it ...
When you get back to yer repairs and release the clamps , they will then be only a couple mm needed to tighten on re-clamping ...
I recommend storing flat and check that no weight bears on the scroll ...
I keep getting questions about glue and having a short time to work with hide glue ...
It's yer fiddle , use the glue you like to use ...
I think some folks think ya must glue the entire top and then clamp the whole thing quickly ....this is not the case boys and girls ...
I'm old school so it's hot hide glue fer me ...fer cracks and end blocks i want to see a strength rating of at least 400 plus ...
After repairs and a good dry fitting and alignment are done of the top , including fitting a small wooden pin in the tail block and top for quick re-alignment , here's the skinny that follows ....
With the top off , Hot hide glue will be applied to the neck block and about one inch of the ribs on ether side of the neck , then a full clamping of all 20 clamps , starting at the just glued area of the neck block with a couple clamps at the tail block locking the pin and top in place but not yet glued ..yer allignment is secured and you can take yer time putting the remaining of the 20 clamps in place , no rush needed ..
You can then remove three or four clamps at a time , insert an artists pallet knife as a spacer to hold the small gap needed , and apply hot hide glue into the rib / top area that is free with yer second pallet knife , then put those clamps back on ...and go to the next few clamps and repeat ....you will have no problem gluing and clamping within the time frame needed and ya can even take a break if ya want in-between sets ......It's all very easy if yer mind is right and the mystery removed ...

I'll post pics of the repairs when i get back to it ..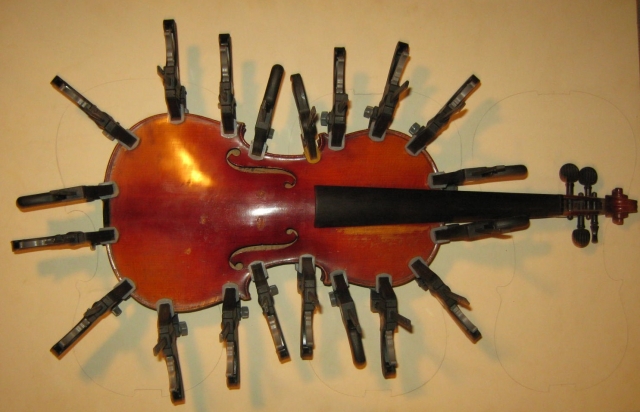 November 17, 2014 - 8:21 pm
Member Since: July 26, 2014
Forum Posts: 130

Offline


@Tucson1 - sorry to hear you are having to sideline your fiddle repair.  I love the pic of your fiddle - looks like she's having a bad hair day

. Hope you are able to get back to your repairs soon.
"A table, a chair, a bowl of fruit and a violin; what else does a man need to be happy?
~~Albert Einstein

coolpinkone
California, the place of my heart
November 18, 2014 - 6:03 pm
Member Since: January 11, 2012
Forum Posts: 4180







Forum Timezone:
America/New_York
Most Users Ever Online:
696
Currently Browsing this Page:
1
Guest(s)
Members Birthdays

Upcoming
MikeV, Kevin M., NewFiddlerGirl, Alfi, srogers, sampow, oldtimebanjo, bus4us5
Top Posters:
ELCBK: 3523
Mad_Wed: 2849
Barry: 2680
Fiddlestix: 2647
Oliver: 2439
DanielB: 2379
ABitRusty: 2049
damfino: 1992
Kevin M.: 1972
cdennyb: 1815
Member Stats:
Guest Posters: 3
Members: 30166
Moderators: 0
Admins: 7
Forum Stats:
Groups: 16
Forums: 79
Topics: 9462
Posts: 118533
Administrators:
Fiddlerman: 15831, KindaScratchy: 1757, coolpinkone: 4180, BillyG: 3741, MrsFiddlerman: 2, Jimmie Bjorling: 0, Mouse: 3634
©
Simple:Press
—