A
A
A



Topic RSS

Hello! Adult beginner here
introduction





(2

votes)

January 15, 2014 - 7:31 pm
Member Since: January 15, 2014
Forum Posts: 2

Offline
Hello all! 
So glad I finally found an active forum with other beginners on here! I am an adult beginner living in Colorado, USA with zero musical education ever (public education in the South-booo). I started lessons about a year ago with an awesome teacher but had to stop recently for the near future cuz I'm super poor :-p but I've kept up with my practice on my own so I'm really excited to be a part of this forum as I find I often have a lot of questions about the simple things like why is my E string in tune when I pluck it but then goes all wonky when I bow?
I'm sure there a ton of advice on this forum and I look forward to perusing. 

Picklefish
Merritt Island, Fla
January 15, 2014 - 7:36 pm
Member Since: June 25, 2012
Forum Posts: 1281

January 15, 2014 - 10:13 pm
Member Since: September 21, 2013
Forum Posts: 492

Offline


@brainrainbow  Welcome! this place is great for beginners! I always have so much fun looking through all the old posts. its amazing how many of my questions are answered just by doing that and everyone here is just wonderul. Glad you are continuing your music even though you can't take any lessons right now! Also glad to meet a fellow coloradan

(i'm stationed elsewhere but im originally from colorado

)
look forward to seeing and hearing more from you in the future. *here here for the adult beginner!*

Lead me, Follow me, or get out of my way!
             ~General George S. Patton

January 16, 2014 - 1:41 am
Member Since: August 28, 2013
Forum Posts: 950





Welcome aboard!  With your initial hands on lessons, you should be able to go as far as you want with what you find here.  
Opportunity is often missed because it wears suspenders and looks like hard work.

HDuaneaz
Chandler, Arizona
January 16, 2014 - 12:30 pm
Member Since: February 27, 2013
Forum Posts: 239

Offline

January 16, 2014 - 5:48 pm
Member Since: December 25, 2013
Forum Posts: 878

Offline


Hey welcome aboard brainrainbow!
I usually use the full term cattywonkus.  I know a bit formal but what can I say habits are hard to break!
Violinist start date -  May 2013  
Fiddler start date - May 2014
FIDDLE- Gift from a dear friend. A 1930-40 german copy, of a french copy of a Stradivarius.  BOW - $50 carbon fiber. Strings - Dominants with E Pirastro Gold string.

January 17, 2014 - 11:56 pm
Member Since: January 19, 2013
Forum Posts: 113

Hi and welcome @brainrainbow !  Ah the E string lol.  I've had many a nightmare with the glorious E string at times.  My cat used to wake from a dead sleep and pull the 'Halloween' move by arching his back and running sideways when I'd practice notes that high.  These days he covers his ears with a paw almost as if to say 'knock it off you jerk, someones trying to get their beauty rest' ha ha.  Congrats on keeping the journey going, it pays off every step of the way

.  To keep the theme going, watch out for those wonky notes

.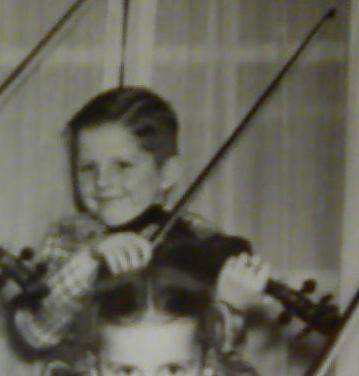 January 18, 2014 - 1:32 am
Member Since: January 21, 2012
Forum Posts: 2647
@ brainrainbow: Welcome to the forum.
Being that your E string is a solid steel string, (more likely than not) and the fact that you are plucking to tune, think of your finger as more or less a mute. You're not getting the crisp clean "meant to be" sound that you will get with the bow. By plucking the string you are not getting the same amount of vibration's because a pluck is just that, a pluck and not a sustained tone. Also, depending where you are plucking the string, most people when they  pluck to tune will pluck somewhere half way between bridge and nut. The placement of the tuner also has some effect on tuning. By plucking the string, the string is not vibrating long enough for the tuner to zero in on the exact hz. If I "pluck to tune", I usually rest the end pin of the violin on my knee which can also produce a muted effect. 
I use an online tuner, but not an etuner and use my ear for tuning. The other day I was sitting watching TV and decided to try an online tuner using my iphone. I was amazed that the closer I got to exact pitch I could hear the change in sound coming from my violin. It began to "wobble" If that's a good word for it, it was like a slow vibrato, I couldn't believe it. I got more of the "wobble" the closer I got to being in tune.   P.S. I did mute the TV while tuning.
Don't know if I've given a valid explanation or not, but my advice is to tune using the bow, after all, that's what you'll be using while playing. 
I've also noticed that when I use a concert mute on the bridge I have to be dead on the note played, otherwise I can really hear if my intonation is even a slight bit off.
I hope that give's some kind of insight to the E string mystery, LOL
Good luck.
Ken.

January 18, 2014 - 8:43 am
Member Since: December 27, 2013
Forum Posts: 87



Hi Brainrainbow,
Welcome to the forum and this community!  I just discovered it myself a few weeks back and it's been a big part of making my beginner violin journey as enjoyable as possible.  I recommend posting vids of your progress once you're comfortable with that in 'critique' section.  The feedback I get helps me know what to do to improve and encourages me at the same time  🙂
Michelle

HDuaneaz
Chandler, Arizona
January 18, 2014 - 1:27 pm
Member Since: February 27, 2013
Forum Posts: 239

Offline

Mad_Wed
Russia, Tatarstan rep. Kazan city
January 18, 2014 - 4:22 pm
Member Since: October 7, 2011
Forum Posts: 2849

Offline





Forum Timezone:
America/New_York
Most Users Ever Online:
696
Currently Online:
BillyG
,
Jim Dunleavy
,
arkmaverick
,
stringy
Currently Browsing this Page:
1
Guest(s)
Members Birthdays

Upcoming
oceanwiser, dcjdavis, Viking Violinist, ptrckmcconn, Octopus.Violinus, xTIDx, FiddleDog, 1 Whiz Kid
Top Posters:
Mad_Wed: 2849
Barry: 2679
Fiddlestix: 2647
Oliver: 2439
DanielB: 2379
damfino: 1971
Kevin M.: 1971
cdennyb: 1815
TerryT: 1728
Ferret: 1575
Member Stats:
Guest Posters: 3
Members: 27336
Moderators: 0
Admins: 7
Forum Stats:
Groups: 16
Forums: 58
Topics: 8659
Posts: 107560
Claire_xx, nate, Deb7, harcherjr, abcd
Administrators:
Fiddlerman: 15213, KindaScratchy: 1756, coolpinkone: 4176, BillyG: 3518, MrsFiddlerman: 2, Jimmie Bjorling: 0, Mouse: 2239
©
Simple:Press
—