A
A
A



Topic RSS

Conducting? What the @&#%???!!





(2

votes)

June 19, 2014 - 8:57 am
Member Since: May 4, 2012
Forum Posts: 2379

Offline




Conductors of orchestras are perhaps the only people with more jokes told about them than the viola players.  My personal favorite is:
What is the difference between an orchestra and a deer?
A deer has the horns at the front and the ***hole in the back..
However, with all due respect, it is a very important position and not an easy one.
So what does it have to do with just playing?  And why am I posting about it under the "Learning to play" section?
Well, because it can actually help with learning to play.
First off, if you ever even are dreaming about playing in any sort of orchestra (or even some combos) you need to know enough about the moves to be able to follow the conductor.  If you like listening to and watching videos of symphony and etc, it is nice to know what the conductor is doing instead of just thinking of them as someone up there waving their arms around wildly.
But for actual learning, I had to learn the basic moves when I took music theory in college.  I thought it was silly, so I asked the prof why it was required.  He told me you can learn a piece considerably faster if you "conduct along" when studying it, instead of just listening to it.  His point was that conducting along with a piece as you listen requires more of an awareness of what beat you are actually on than just tapping a foot does, and that if you also use the left hand to signal the crescendos and diminuendos, you are studying/memorizing the dynamics at the same time, and the piece will burn into your memory easier, quicker and better.
I still felt silly doing it, but since it was required, and the prof would insist we do it when listening through our reference recordings before practising a piece, I did it.  And it didn't take too long to figure out he was right, as usual.
So it is useful enough.  But lately, I have found another use for it in practice.  In this astounding era of computers and video, you can make a quick vid of yourself conducting and use it with any/all sound stripped off it as a sort of silent visual upgrade to metronome practice.
Metronomes are ok, within their limitations.. But those limitations are kinda severe. All the clicks for the beats sound the same on most metronomes, so there is no good indicator of which beat of a measure you are actually on, and since you wouldn't usually be playing with a metronome in front of people, it may not be the best thing to get too used to that steady audible click for keeping your time.
Just a thought for you folks.  I've been using vids in place of metronome more in my own practice.  Part of my never-ending hunt for new tactics for the quest of playing better.  Maybe worth a try for you, maybe not.
Oh, one other additional advantage of "conducting along" when listening through pieces that you're studying.. Anyone who walks into the room while you're doing it will tend to assume you've gone totally bat-crap crazy and will be more inclined to just sneak back out than interrupt.  At least if they are sensible. This can be a great advantage over the usual non-musician attitude of assuming it is ok to come in and start babbling at you when you are trying to listen hard to a piece of music.. Extra craziness points if you buy or make a conductor's baton to use (some of them sell for as little as a couple bucks, or you can just stick a bamboo skewer into a wine cork to make your own).   But even conducting barehanded?  You'll still look pretty crazy.

"This young wine may have a lot of tannins now, but in 5 or 10 years it is going to be spectacular, despite the fact that right now it tastes like crude oil. You know this is how it is supposed to taste at this stage of development." ~ Itzhak Perlman

coolpinkone
California, the place of my heart
June 21, 2014 - 12:50 pm
Member Since: January 11, 2012
Forum Posts: 4180






Awesome Dan.
I was shocked and appalled that I had to learn conducting in my music class last semester in college.  I was so shy about it.  Hated it.. abhorred it.  But in the end, it is useful, it was very enlightening to learn the the simple conducting patterns.  I notice they are in the Essentials books also.  I just was selectively ignoring them.

In class we had to say ta ta ta ta.. to the different patterns and I was so grumpy and shy about it. By the end of the semester I was driving around town singing ta ta ta while driving.. and conducting.  (Since I can't play violin and drive....)
I find conducting fascinating now.  I used to yawn a bit.  Now I find myself watching conductors and trying to interpret them.  I love to hear what the orchestra does in response to their moves. I guess I really really just love the drama of it all.  
And well you know.. anything musical... 

Thanks Dan.  Great article.
Vibrato Desperato.... Desperately seeking vibrato

June 21, 2014 - 3:13 pm
Member Since: August 22, 2011
Forum Posts: 485

Offline
If music be the food of love, play on;
Give me excess of it ..(William Shakespeare in Twelfth Night)

coolpinkone
California, the place of my heart
June 21, 2014 - 3:51 pm
Member Since: January 11, 2012
Forum Posts: 4180






Wow.. Splendid!!!
I wonder if they ever want to just play something really whack and jolt him.  ha ha.. just kidding.
That is so intense. It seems he singles a few out at times.... I think I'd be shaking in my boots.

About 4:50.. is he disappointed?  and at 516 the totally "Harry Potters" them.  I LOVE IT.
Very cool!  My heart was beating and I was captivated!!!
Vibrato Desperato.... Desperately seeking vibrato

coolpinkone
California, the place of my heart
June 21, 2014 - 9:41 pm
Member Since: January 11, 2012
Forum Posts: 4180






Oh.... good to know.. I had trouble reading him.  I thought.."oh No.. did someone flub" 
  nice to know it was in approval.
CPO – At 4:50, the conductor is quite the opposite of disappointed. That was a nod of enjoyment (taken away by the music) but not even considering steering the solo. -
Vibrato Desperato.... Desperately seeking vibrato

June 22, 2014 - 9:36 am
Member Since: September 7, 2012
Forum Posts: 985

Offline
Here is an excerpt from Ottman's book on sight singing.  It is a book of music and techniques for learning to sing music on first sight.
-------------------------------------------------------------------------------------------------------------
2. The conductor's beat.  It should be obvious that only the first performance of an exercise can be considered reading at first sight.  (After that, you are practicing!)  Therefore, on the first try, you should not stop to correct errors or to study what to do next.  To help you complete an exercise without hesitation, the use of conductor's beats is highly recommended.  Shown on page 3 are hand-movement patterns for two beats, three beats, and four beats per measure.  Successive down beats of each pattern coincide with successive bar lines.

The downbeat (1) drops in a straight line and describes a small bounce at the instant the first beat occurs.  The first downbeat is preceded by an upbeat, beginning at the point of the last beat of the pattern being used.  Therefore, the last beat of each measure is the upbeat for the following measure.
Practice these three conductor's beats without reading or singing.  Next, with the left hand, tap twice for each beat of the conductor's beat.  These taps represent the normal simple division of the beat-note value.  When you no longer have to concentrate on these hand movements, you are ready to begin rhythmic reading and sight singing.
As you read an exercise, use the conductor's beat and tapping to keep going without pause until the very end.  If you make a mistake, don't hesitate or stop; the next "1" (downbeat) will be the next bar line where you can pick up your reading and continue to the end.  If you made errors or lost your place, you can review and practice in anticipation of doing better on the next exercise.  Follow this procedure beginning with the very first exercise.  Conducting and tapping easy exercises now is the best way to prepare yourself for the more difficult exercises to follow.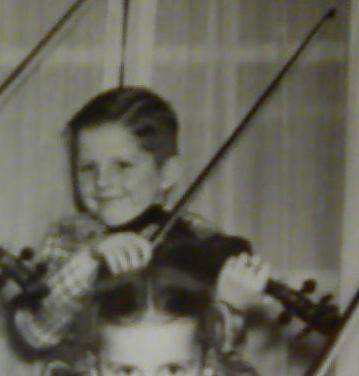 June 23, 2014 - 12:04 am
Member Since: January 21, 2012
Forum Posts: 2647

June 23, 2014 - 8:08 am
Member Since: December 25, 2013
Forum Posts: 878

Offline


I always thought the conductor's job was most important during the practices - getting what he wanted out of the instruments/musicians in preparation for the performance, organizing what he wants to convey with a piece.  By the time the players reached a performance they are already playing the music the way the conductor wished it played.
Violinist start date -  May 2013  
Fiddler start date - May 2014
FIDDLE- Gift from a dear friend. A 1930-40 german copy, of a french copy of a Stradivarius.  BOW - $50 carbon fiber. Strings - Dominants with E Pirastro Gold string.

June 25, 2014 - 8:47 am
Member Since: May 4, 2012
Forum Posts: 2379

Offline




@Barry:  Maybe you could teach one of the dogs to hold a baton in their mouth and conduct.  Now that would be a show you could take on the road!  LOL
"This young wine may have a lot of tannins now, but in 5 or 10 years it is going to be spectacular, despite the fact that right now it tastes like crude oil. You know this is how it is supposed to taste at this stage of development." ~ Itzhak Perlman

Forum Timezone:
America/New_York
Most Users Ever Online:
696
Currently Browsing this Page:
1
Guest(s)
Members Birthdays

Upcoming
Fiddlerman, estudy, vitthal36, DD, Bismarck, augustoad, Mirrim9999
Top Posters:
Mad_Wed: 2849
Barry: 2680
Fiddlestix: 2647
Oliver: 2439
DanielB: 2379
damfino: 1992
ELCBK: 1976
Kevin M.: 1971
cdennyb: 1815
TerryT: 1728
Member Stats:
Guest Posters: 3
Members: 27476
Moderators: 0
Admins: 7
Forum Stats:
Groups: 16
Forums: 75
Topics: 9052
Posts: 112552
MrsWally, wofolehe, DJ Thomas Heath, skater51, morsegarrett, tomkauda
Administrators:
Fiddlerman: 15449, KindaScratchy: 1757, coolpinkone: 4180, BillyG: 3589, MrsFiddlerman: 2, Jimmie Bjorling: 0, Mouse: 3003
©
Simple:Press
—