Check out our Forum Rules. Lets keep this forum an enjoyable place to visit.
A
A
A



Topic RSS

string heights
on differnt violns. does it really matter.





(0

votes)

November 12, 2013 - 1:22 am
Member Since: September 21, 2013
Forum Posts: 489

Offline


hey guys,
Its been a while since i could get on.  I managed to snag my husbands violin, he's debating learning, and he has a student violin that i like alot. Mine is considered a mute violin with the cut outs its vibrations are extreamily muted, vs his which is a normal violin and is definally louder. Well to say the least I began playing around with his, after getting it in tune, i've noticed that his strings are set higher above the fingerboard, where mine are set lower. Other then the speed of transitioning between notes is there a real differnece between strings set higher off the fingerboard? is there a correct height? I haven't measured them at all but was wondering if it does make a difference or if its just a matter of preferance.
Lead me, Follow me, or get out of my way!
             ~General George S. Patton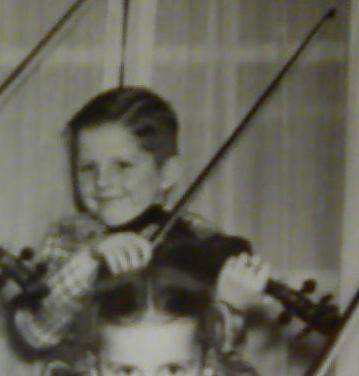 November 12, 2013 - 2:39 am
Member Since: January 21, 2012
Forum Posts: 2647
@RockingLR33: Welcome back.
These are approx. measurements for string height above the fingerboard (to the bottom of the string)
E string: 3.5 mm at the end of the f/b
G string: 5.5 mm at the end of the f/b
Your string height won't affect the tone as much as it will the volume of the instrument. String height can also vary from player to player, some like it higher while other's like it lower. Another factor in volume is string tension, the lighter the tension the less volume the instrument will produce, although, I believe medium tension string's are more popular. 
There are other factor's to consider in tone and volume. The thickness of the top and bottom of the violin, aka plates, also the amount of varnish applied to the instrument. Heavily applied varnish can also dampen the tone and volume produced.
You may want to consult a qualified luthier for a professional opinion.
Ken.

November 12, 2013 - 3:21 am
Member Since: May 4, 2012
Forum Posts: 2379

Offline




@rockinglr:  You mentioned it being a mute violin and it reminded me you have a wild looking instrument.
https://fiddlerman.com/wp-content/forum-image-uploads/rockinglr33/2013/09/IMG_20130921_150611_289.jpg
So far as I know, the string height (beyond what is needed to play without the strings buzzing) is a matter of personal taste. Some like the strings to finger as easy as possible, some like them to have a little more push-back.
Drastic differences in height, like when the modern height was adopted along with a new neck angle, as opposed to baroque instruments which had much lower bridges, there can be some difference in volume and tone.  But the few mm that would be likely between two ways of doing it on a modern violin probably wouldn't make a huge change in the volume or tone, and be more something done for a preferred "feel" when playing.
"This young wine may have a lot of tannins now, but in 5 or 10 years it is going to be spectacular, despite the fact that right now it tastes like crude oil. You know this is how it is supposed to taste at this stage of development." ~ Itzhak Perlman

November 12, 2013 - 7:08 am
Member Since: September 7, 2012
Forum Posts: 985

Offline
Do a web search for "Average Measurements of the Violin in millimeters" to find some numbers for string height and other measurements.  That document calls for the strings to be lower than the numbers @Fiddlestix gave.
With the strings too high, a fingered string is hard to reach with the bow, as it gets pressed low relative to its neighbors.  So for example if you often hit the G or A strings when trying to play G on the D string, it may be that your strings are too high.
If too low, the strings may buzz against the fingerboard.
Synthetic strings need a little more room to vibrate than steel strings do.

Forum Timezone:
America/New_York
Most Users Ever Online: 231
Currently Online: AndrewH, steveduf, cid
51 Guest(s)
Currently Browsing this Page:
1 Guest(s)
Members Birthdays

Today
JochSejo, Ivanorcan
Upcoming
Sofia Leo, TKDennis, Ms-G, FiddleDetroit, CookiesViolin, Bobby, Elaisa, Michael Browder, RCall, EBurrell, Gordon Shumway, ViolinD, dougga, MoonShadows
Top Posters:
Mad_Wed: 2849
Barry: 2673
Fiddlestix: 2647
Oliver: 2439
DanielB: 2379
Kevin M.: 1969
damfino: 1903
cdennyb: 1814
TerryT: 1726
Ferret: 1575
Member Stats:
Guest Posters: 2
Members: 19546
Moderators: 0
Admins: 7
Forum Stats:
Groups: 16
Forums: 58
Topics: 7664
Posts: 95954
Newest Members:
lorigf3, Checkersic, AdamPed, Mildredbiz, Nolankedia, blancarb2
Administrators: Fiddlerman: 14137, KindaScratchy: 1732, coolpinkone: 4168, BillyG: 2773, MrsFiddlerman: 0, Jimmie Bjorling: 0, SimplePressHelp: 0