A
A
A



Topic RSS

Teacher Shmecher !





(0

votes)

January 29, 2014 - 9:00 pm
Member Since: February 28, 2011
Forum Posts: 2439

Offline
It is said that a student will fall into terrible habits without the guidance of a teacher.  I only took lessons a few months and all my teacher told me was I was "opening up" too much with my bow arm (elbow too far from body).  Big deal and $30 bucks an hour!
Well, I plodded along for a few years making some progress but then I noticed a few things I was doing wrong.  Altogether, the flaws began to look like "opening up" that I heard about so many years ago.  Yeah, the teacher was right! 
What improved:
Tone
Expression
Speed
AND ...... all the lousy bows I own are sounding much better.
So, I guess I have to score one for the teacher but being teacherless did save me from recitals.
When you come to a fork in the road, take it.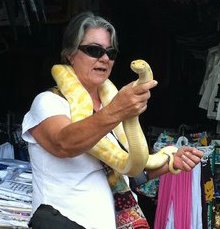 Robyn.fnq
Queensland, Australia
January 29, 2014 - 9:40 pm
Member Since: July 7, 2011
Forum Posts: 587
Yes, Oliver, I think you may have been diddled ... there are teachers and there are musicians who make money on the side by teaching.  But they don't know actually how to teach.  I contacted one in the early days, looking for guidance on all physical aspects (posture, bow hold, violin hold etc), and I wasted $50 for the first lesson, she just stood there and said 'let's play this together', kept telling me my C was too low or too high, but nothing else.  I video'd the lesson, with her permission because I was travelling and don't have a teacher in my home town.  Later scrutiny of the lesson brought me no further assistance.  I never went back for the second lesson I'd booked.
I've looked for a teacher locally, but now I don't have transport or income, so I'm back to square one, me myself and I.  (And of course, Fiddlerman and Youtube.)
Having said that, I think a good teacher is essential if we're going to learn how to play a musical instrument properly, I don't think there's any question about that.
So for anyone with the opportunity to 'try out' a teacher, I would recommend they do just that, find someone who actually tells you what you need to know and shows you how to manage that.
Just my 2 cents' worth ...
If you think you can, or you think you can't, you're probably right.

January 30, 2014 - 8:50 am
Member Since: February 28, 2011
Forum Posts: 2439

Offline

Mad_Wed
Russia, Tatarstan rep. Kazan city
January 30, 2014 - 2:48 pm
Member Since: October 7, 2011
Forum Posts: 2849

Offline





January 31, 2014 - 1:00 pm
Member Since: May 4, 2012
Forum Posts: 2379

Offline




One of the first musicians I ever got to play with, I was griping about not knowing enough and that maybe I should find a teacher and take lessons.  He said "The only real teacher of music.. is music.  You have to learn to listen.  Listen to records, listen to other players, and always listen to yourself when you play."
I've always tried to keep that in mind, but I have had some teachers over the years.  Some I'd rank as great, others were less than worthless.  Teachers are not all created equal.  Sometimes, you also may just not be at a place in your journey where you are actually open to what the teacher might have to give you.  So students aren't all created equal, either.  LOL
With any teacher, you are paying for their experience and knowledge.  If they have some that you can use, and have the skills to communicate them effectively, AND you are in the right frame of mind to benefit from it, a good teacher can save you some time. 
Teaching is a skill, but learning is a skill too.  Have to consider if you can be a good student, or if you are a pain in the butt that expects a teacher to do miracles.  LOL
In the long run, I think that the teacher is considerably less than half of the equation.  Even if they are great at what you want to learn and have excellent communication skills, the actual work of learning it is still going to all be up to you.
So far as the idea that without a teacher, you will acquire bad habits.. Well, probably some.  But logically you'll get some things right and can develop some good habits too.  A good teacher can save you having to re-learn things where there was a better way and you didn't know about it and end up working harder than was actually necessary.  They can show you how to apply your effort to better effect.  Maybe show you some tricks or show how to put together an effective practice routine or etc.
But the actual learning, that is still all on you.
"This young wine may have a lot of tannins now, but in 5 or 10 years it is going to be spectacular, despite the fact that right now it tastes like crude oil. You know this is how it is supposed to taste at this stage of development." ~ Itzhak Perlman

January 31, 2014 - 2:33 pm
Member Since: February 28, 2011
Forum Posts: 2439

Offline
In all fairness, I should add that my first and only teacher was running mostly a KinderMuzik studio.  She had a lot of influence on local school music programs and an impressive resume including first chair viola in the Yale orchestra.  She later relocated to a large "Main St." store street following a long time of giving lessons in her closet (or thereabouts).
She and I were not a match but I think it was just that .... nothing more.
When you come to a fork in the road, take it.

January 31, 2014 - 8:43 pm
Member Since: December 14, 2011
Forum Posts: 196

Offline

January 31, 2014 - 10:38 pm
Member Since: February 28, 2011
Forum Posts: 2439

Offline
Yes,  I find it almost comical that a teacher can do something a student can not.  That is, to see yourself (and your mistakes!)  I know about using mirrors but this never helped me.
Bottom line, is it not an issue of ambitions and hopes?  I struggled without a teacher and payed for it but I had no important goals.  If I had ever been thinking about a career I certainly would have used formal instruction.
When you come to a fork in the road, take it.

Forum Timezone:
America/New_York
Most Users Ever Online:
696
Currently Online:
AndrewH
Currently Browsing this Page:
1
Guest(s)
Members Birthdays

Upcoming
MikeV, Mikey, Alfi, muck, MikeM70, sampow, oldtimebanjo
Top Posters:
Mad_Wed: 2849
Barry: 2680
Fiddlestix: 2647
Oliver: 2439
DanielB: 2379
damfino: 1992
Kevin M.: 1971
cdennyb: 1815
TerryT: 1728
Ferret: 1575
Member Stats:
Guest Posters: 3
Members: 27391
Moderators: 0
Admins: 7
Forum Stats:
Groups: 16
Forums: 60
Topics: 8796
Posts: 109184
jessicatran, BlairFiddler, thekalkulator, Playingagain, Tomas, Joec
Administrators:
Fiddlerman: 15289, KindaScratchy: 1756, coolpinkone: 4180, BillyG: 3569, MrsFiddlerman: 2, Jimmie Bjorling: 0, Mouse: 2468
©
Simple:Press
—