Check out our Forum Rules. Lets keep this forum an enjoyable place to visit.
A
A
A



Topic RSS

The correlation between bows and strings.
Otherwise entitled: This newbie idiot needs help and thinks her question may turn out to be a rather stupid one.





(1

votes)

March 18, 2013 - 8:13 am
Member Since: March 4, 2013
Forum Posts: 11

Offline
So I picked up Thane tonight for the first time this week (stupid house inspection, making me clean, bleh) and um... I'm squeaking. I know my bowing is not very good: I can see that I am unable to keep the bow straight and I know that this is quite likely the cause of my... uh... caterwauling. But I also noticed when I looked over his strings that they are considerably blacker on the fingerboard and bowing area than they are between the bridge and the tailpiece. I'm even seeing a little bit of black colouring on the bridge itself. So I was wondering: do the oils in human skin cause the strings to deteriorate at all? I know that my horrendous bowing is 99.9999(recurring)% of the reason for these strangled cat calls but I'm also wondering if the strings will need to be replaced.
The strings themselves are Epoch Dynamic, Aluminium wound steel core strings for students. I've heard that steel core aren't the best but, well, they were the only ones the music store I go to had, and the staff at the other one are the most obnoxious, holier-than-thou, elitist (insert mild expletive of your choice) that I've ever come across in retail, so I'm not going there. And I'm rambling so... what was my point again?
Ah, right. How do I tell when the strings need to be changed, or do I just keep playing until they break or kill the Bow of Unknown Origins?
Thanks. And now back to torturing the neighbours.

In the darkness all is the same, all is equal. It is the light which casts the shadow, and turns to evil that which simply was.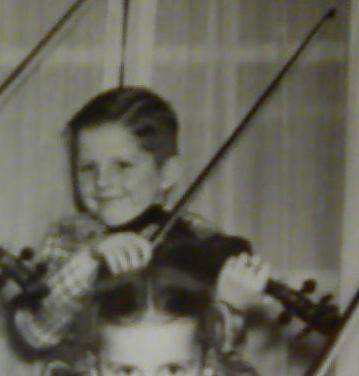 March 18, 2013 - 11:32 am
Member Since: January 21, 2012
Forum Posts: 2647
The acidic chemical's plus regular grime will deteriorat the string. Apply some rubbing alcohol on a cloth and clean the strings. If everything is turning black (including your finger's) that's the aluminum residue coming off.
If I were you I would check out http://www.fiddlershop.com here and order some new string's, but stay away from the steel core string's.
When you clean your string's with the alcohol, be very carefull not to get any on the violin finish, it make's a mess.
Good luck to you.

March 18, 2013 - 7:51 pm
Member Since: September 10, 2011
Forum Posts: 1969

Offline



From what I read you have a problem keeping your bow perpendicular to the string. This happens when you bow from your shoulder. Try to keep your shoulder sstill and move your elbow. Use your elbow to change strings. Now as for the strings. It is mormal for aluminium string to turn black and to leave black marks on your fingers. I know this because I have a set of Zyex with the aluminium wound D string. I would suggest you get away from the steel core string unless you like to play fiddle tunes.

Forum Timezone:
America/New_York
Most Users Ever Online:
231
Currently Online:
107
Guest(s)
Currently Browsing this Page:
1
Guest(s)
Members Birthdays

Upcoming
HP, Dax, Grunyon, Briant, Violince, Doc Miller, Raven
Top Posters:
Mad_Wed: 2849
Barry: 2673
Fiddlestix: 2647
Oliver: 2439
DanielB: 2379
Kevin M.: 1969
damfino: 1913
cdennyb: 1814
TerryT: 1726
Ferret: 1575
Member Stats:
Guest Posters: 2
Members: 21907
Moderators: 0
Admins: 8
Forum Stats:
Groups: 16
Forums: 58
Topics: 7802
Posts: 97536
vfrcbvrfaderfory, SandraMug, maraub3, dominiqueoa1, jeromeci4, dtytltqspita
Administrators:
Fiddlerman: 14356, KindaScratchy: 1735, coolpinkone: 4168, BillyG: 2880, MrsFiddlerman: 1, Jimmie Bjorling: 0, SimplePressHelp: 0, peopleshost: 0
©
Simple:Press
—