A
A
A



Topic RSS

Burning Out from Violin Stress
How to progress in violin and be in it for the long game, without burning out from stress or anxiety.





(0

votes)

July 25, 2015 - 10:15 am
Member Since: July 25, 2015
Forum Posts: 2

Offline
 Hey everyone!
So I've seen many of my friends lock themselves up in the practice room all year, until they burn out and literally break down into tears. I've seen it multiple times at the music conservatorium I studied at, and I myself have had a similar situation. 
Reading some of the posts in this forum, I'm realizing there is a major challenge many of us face - yet there is very little written about this topic. In fact, I believe the process of getting really good at violin (and other skills) involve a strong psychological game. 
So please, if you are suffering from self-doubt, anxiety or depression from feeling the need to practice and 'get better', take a moment to watch this video. 
Let me know what you guys think - if you agree or not.
Eddy

July 25, 2015 - 11:37 am
Member Since: November 26, 2014
Forum Posts: 209

Offline
Hi Eddy! Welcome to the forum!
First of all, thank you for sharing your video. I'm a big fan of 2set, I didn't know you had an individual channel! 
Thank you for putting these thoughts in words. I was suprised when you started to describe the dabbler character because I've been struggling to understand why most younger students have this attitude of "oh I can't play " now when they are in a great path and stop going to classes while at the same time they ensure they love violin. I've discussed this so many times with my teacher because it really is a pity seeing good students giving up. Also, I didn't know the word itself so thank you, I've learned something new today!
When I started to play violin, my progress skyrocketed till the end of 2-3 year when I definitively reached a big plateau and then, shortly after, I went on a hiatus for a while due to college. After my return, I consider myself in the 2nd character you described. It's a mixed feeling because you know you are willing to fight and make progress but the results doesn't show up and that hurts emotionally. Relaxing is the key but it's easier said than done for people like me because it seems we lose control of things.  It really is a psychological game, like you said.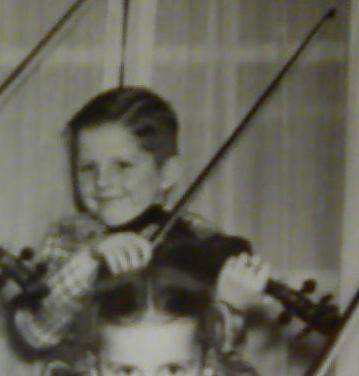 July 25, 2015 - 11:38 am
Member Since: January 21, 2012
Forum Posts: 2647

July 25, 2015 - 3:38 pm
Member Since: May 4, 2012
Forum Posts: 2379

Offline

July 26, 2015 - 10:13 pm
Member Since: November 4, 2012
Forum Posts: 96

BillyG
Brora, North-east Scotland
July 27, 2015 - 9:32 am
Member Since: March 22, 2014
Forum Posts: 3744
Yup - I have no expectations to ever be a concert violinist - but I am driven by the "possibilities of playing like.... ( you can name them...  pick ANY one great player )".   
I'll tell you this folks, there have been moments that "could have been dark" in the as yet short journey I have had with the violin - but - there is ALWAYS something more to learn ( be it a different technique, getting used to different timings, different WHATEVER ).  I have seen myself simply change to a new ( different ) set of strings - not because I had "problems" with the set that was on - I just wanted to experience the difference...
I loved the video info @eddy20 - my "plateaus", which of course I have, are to me "consolidation periods".   I have seen days where I struggled off and on ( my practice schedules vary - but generally will be around 1hr 30mins to 2 hrs per day broken into 20 or max 30 min sessions ) - but - for me - the REAL significant issue is - if I am having trouble with something - I'll drop it.  Dump it.  Leave it.  Never touch it again for the next two days.  Then come back to it, and, a few minutes into it I begin to "see" what was wrong.  It's still not where I want it - but I'll work with it for a bit until I'm on the "edge" of getting the next step - then - when I realize I am "fighting" I walk away, for another day or so - and work on something different ( different technique, different tune, whatever ).
Of course - I have no goals or pressure other than the ones I set myself - it's not like I HAVE to perform on Saturday or whatever.  I play this darned instrument for so-called "fun" ( actually, I love it - that was just a bit of Scottish sarcasm! )
But, I really do "get" what you said in the video eddy20 !  Cool ! 
I seriously recommend not copying my mistakes. D'oh - 
Please make your own, different mistakes, and help us all learn :-)

July 28, 2015 - 5:15 pm
Member Since: January 19, 2014
Forum Posts: 973

Offline

July 29, 2015 - 8:27 pm
Member Since: January 15, 2015
Forum Posts: 154

Offline

July 30, 2015 - 10:12 am
Member Since: July 25, 2015
Forum Posts: 2

Offline
Thanks for the positive feedbacks everyone!
@ElisaDalViolin  - I'm always happy to meet a fan! Yep i've definitely oscillated in and out of all 3 at different times of my life, but have also enjoyed some great periods (sometimes even just short-lived moments) in my life where violin meant only about expression, fun and dedication. As with the students, I myself am still trying to find the best ways to instill great learning mindsets in students, so let me know if you have any suggestions or insights on that!
Hi @Fiddlerman - I'm playing in the Queensland Symphony Orchestra this year as a contract casual violinist. Outside of that, I co-run a Facebook violin comedy page called 'Twoset Violin', and have recently become much more serious and passionate about teaching. Thanks for the welcome
@BillyG Love the Scottish sarcasm. Yes I find sometimes it is helpful to leave a problem for a while to come back to with a fresh mind. Other times, I find working at the problem with an open, inquisitive mind that is not too 'self-critical or judging' can bring awesome insights too. But I love how you remain conscious of the most important fact - that we should play it out of love. 

Jim Dunleavy
United Kingdom
September 4, 2019 - 6:04 am
Member Since: April 19, 2015
Forum Posts: 819

September 4, 2019 - 8:34 am
Member Since: February 10, 2019
Forum Posts: 3140

Offline
Haha..I 2nd that Jim.  And as far as "supplements"  its violin..we have to be self destructive to even attempt it.  There have been Many fiddle tunes written about the need for playing supplements such as..whiskey for breakfast..errr or is that whiskey before breakfast..well that would probably mean farewell to whiskey if a person over does it so lets be careful with those supplements.  Probably should just not even bother with them.

Forum Timezone:
America/New_York
Most Users Ever Online:
696
Currently Online:
Gordon Shumway
,
AndrewH
Currently Browsing this Page:
1
Guest(s)
Members Birthdays

Upcoming
Sofia Leo, TKDennis, FiddleDetroit, CookiesViolin, JPferrman, Designer 88, LyleA, Stephen, Dorque, Trisha, Elaisa, wonderputz, Gordon Shumway, dougga, Russionleo, JohnG
Top Posters:
ELCBK: 6225
ABitRusty: 3139
Mad_Wed: 2849
Barry: 2687
Fiddlestix: 2647
Oliver: 2439
DanielB: 2379
Gordon Shumway: 2287
damfino: 2095
Kevin M.: 1973
Member Stats:
Guest Posters: 3
Members: 31252
Moderators: 0
Admins: 7
Forum Stats:
Groups: 16
Forums: 80
Topics: 10209
Posts: 128907
Administrators:
Fiddlerman: 16267, KindaScratchy: 1760, coolpinkone: 4180, BillyG: 3744, MrsFiddlerman: 2, Jimmie Bjorling: 0, Mouse: 4509
©
Simple:Press
—