A
A
A



Topic RSS

What do you guys think?





(0

votes)

March 21, 2015 - 2:35 am
Member Since: March 21, 2015
Forum Posts: 1

Offline
hello all!
in general, which of the two statements sounds more agreeable to you?
1. a male 40 year old professional violinist must avoid physical work such as shoveling snow or lifting heavy objects (such as boxes and furniture, when moving for example) in order to protect ones hands from possible injury.
2. it is totally okay for a male 40 year old professional violinist to do physical such as shoveling snow or lifting heavy objects (such as boxes and furniture, when moving for example).
------------------------
in general, which of the two statements sounds more agreeable?
1. violinists should limit their hand use to violin play and essential functions
2. violinists should not avoid normal hand functions such as those of a non-violinist 
------------------------
please expand on your opinion if possible. from childhood to old age, does this profession merit a special status in terms of what one can/cannot do with their hands? in other words, what is the proper hand care for a professional violinist or an aspiring professional? do violinists deserve a special status? emphasis is on physical work and exercise. maybe there is a special set of exercises for violinists?
thank you!

March 21, 2015 - 9:26 am
Member Since: December 25, 2013
Forum Posts: 878

Offline


I have played just short of 2 years and in no way supporting me or my family. 
I know a now retired surgeon - ENT who always did very physical work, cutting down trees, chopping firewood, etc.
I know a much younger general surgeon - who gardens, cut down trees, but would not work with stone for fear of smashing his hands  A few years ago he quit using the chainsaw.  I think he had seen someone who was cut with a chainsaw and the horrific damage it did.  He was freaked by it realizing that could be him.
I know a pediatric surgeon who did all kinds of yard work.  One day I had to hold the intestines of a baby in my hands for a couple of hours while I waited for him to shower, clean up from his yard work and get to the hospital!!
Anyway the ENT was responsible for curing people of ENT related things.  The general surgeon was about saving lives.  The pediatric surgeon was responsible for saving that baby's life.  He kept me from caring for other sick baby's while I waited for him.  FYI - the baby survived and did great!
I am a gardener who never wore gloves until I started playing the violin.  BUT I have become very, very careful and much more aware of where my hands are when I am working.  
How does shoveling snow do anything but strengthen your hands?
Violinist start date -  May 2013  
Fiddler start date - May 2014
FIDDLE- Gift from a dear friend. A 1930-40 german copy, of a french copy of a Stradivarius.  BOW - $50 carbon fiber. Strings - Dominants with E Pirastro Gold string.

March 21, 2015 - 9:48 am
Member Since: January 14, 2013
Forum Posts: 888

Offline


March 21, 2015 - 10:41 am
Member Since: January 19, 2014
Forum Posts: 973

Offline

March 21, 2015 - 11:10 am
Member Since: May 4, 2012
Forum Posts: 2379

Offline




For a professional musician, an injury could mean not playing and that could result in some reduction or loss in income.  I think at least reasonable care of the hands is warranted for any musician, professional or not.
I think it is reasonable to be careful with power tools, knives, hammers, machinery, and so on.  Basic shop, kitchen, garden and etc safety. 
I can't think offhand of where shovelling snow would be likely to cause injury, though.  Not much chance of the hands or fingers getting cut, burned, broken or crushed.  Wear gloves to avoid frostbite, if temperatures and windchill make it a possibility.  
But I'd say there is a more likely chance of an injury to the hands from taking a tumble when using the stairs.  I know people who have broken fingers, hands or wrists that way, some of them musicians.  You are probably not avoiding stairs, though.    
I think it boils down to a simple question.. "Does this professional musician make enough to be able to afford to hire a neighbor kid to shovel the snow?"  LOL
Because just expecting the wife or any other family members to do it because you are a musician is probably not going to go over well as a concept.  It could even be another way of risking injury.

"This young wine may have a lot of tannins now, but in 5 or 10 years it is going to be spectacular, despite the fact that right now it tastes like crude oil. You know this is how it is supposed to taste at this stage of development." ~ Itzhak Perlman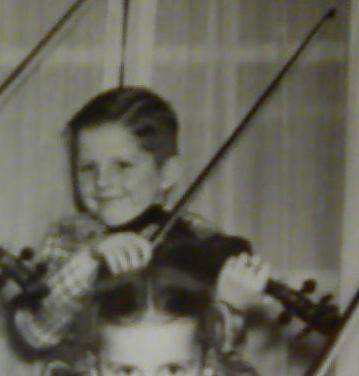 March 23, 2015 - 2:55 am
Member Since: January 21, 2012
Forum Posts: 2647
Uzi said
Wife wants you to do some yard work does she?
My thoughts exactly. 

If I had to worry about injury to my hands, I'd live in a bubble. Sure there have been a couple time's over the last year or so (since I came out of retirement) that I've injured a finger or a hand at work. I'm a cabinet maker and work with power tools all day long. I work with material such as plastic laminates, (i.e. Formica) where it's very easy to cut a finger (and I have a few times) and not be able to play for several days.
Injury to the hands and not being able to play violin is the least of my worry's at present. I have recently been diagnosed with, "Myelofibrosis". It is scarring of bone marrow. Bone marrow is what makes blood platelets, blood platelets rush to a wound and stop bleeding, like "Bars" radiator stop leak stuff. They are what keep us from bleeding to death. Normal blood platelet count ranges from 140,000 to 400,000 per microliter of blood, mine is ranging from 23,000 to 40,000 per McL, dangerously low. If my platelet count drops below 20,000 then a "platelet infusion" is in order, I've had one already at 23,000
The other day while cutting on the table saw, my fingers literally 1/4" away from the saw blade, I said to my co-worker, "OMG, if my hematologist could only see me now, she'd have a conniption fit". So I wouldn't worry too much about manual labor while playing violin, I'm sure symphony orchestra guys do other things beside's play violin.
Sorry, I didn't mean to ramble on about my health.
Enjoy and take care of the "honey do" list.

Ken. 

coolpinkone
California, the place of my heart
March 23, 2015 - 7:34 pm
Member Since: January 11, 2012
Forum Posts: 4180







August 24, 2015 - 10:20 am
Member Since: August 21, 2015
Forum Posts: 23

Offline


I have been playing guitar for 40+ years, not pro, but regular gigs etc, and violin for about 8 months and always have one eye on hand risk assessment! Lol
I am 57 and recently cut someones hedge with an electric trimmer that took me two days, after which I could barely lift a cup of tea! Even though I have spent most of my life working in physical environments. 
I would say for any pro musician to steer well clear of prolonged use of power tools or prolonged lifting that strain muscles in hand, wrist and fingers. 
And the wind takes your hesitation, and the sun burns your fear, and the rain on your face, make the tears disappear..

Forum Timezone:
America/New_York
Most Users Ever Online:
696
Currently Online:
Jim Dunleavy
,
Katie M
Currently Browsing this Page:
1
Guest(s)
Members Birthdays

Upcoming
Killerkhezu, Ferret, visionsalchemy, HDuaneaz, Preanix, laserbrainz, Writer, chendricks, BillyG, rsmith6322, EricBluegrassFiddle, ACDSherlockian, Dan, jose6ph, Kody, music_master
Top Posters:
ELCBK: 5002
Mad_Wed: 2849
Barry: 2680
ABitRusty: 2665
Fiddlestix: 2647
Oliver: 2439
DanielB: 2379
Gordon Shumway: 2099
damfino: 2043
Kevin M.: 1973
Member Stats:
Guest Posters: 3
Members: 31104
Moderators: 0
Admins: 7
Forum Stats:
Groups: 16
Forums: 79
Topics: 9901
Posts: 124625
Administrators:
Fiddlerman: 16062, KindaScratchy: 1760, coolpinkone: 4180, BillyG: 3741, MrsFiddlerman: 2, Jimmie Bjorling: 0, Mouse: 4166
©
Simple:Press
—