A
A
A



Topic RSS

Had a nice chat today!
This is to share some interesting chats in the chat-box.





(2

votes)

November 5, 2013 - 4:16 am
Member Since: August 22, 2011
Forum Posts: 485

Offline
November 05, 2013:  Participants: Daniel, Ozmous and RosinedUp.
Ozmous: Btw, speaking of reprogramming with light, did you know that you can reprogramme yer body clock by just shinning a light at the back of uer knee
...
MadBadDaniel: Hadn't heard that.. But if you use a low power laser against the right spot on your forehead or the base of the skull, and get the angle just right, you'll "see" a light even with your eyes closed. Pineal gland in most individuals still functions as a primitive eye.
....
MadBadDaniel: Very rudimentary, at least in humans though.. No color sense to it, so the brain interprets any color of light there as white. And the light will always seem to be behind you, regardless of if the beam is brought in from the front or back.
...
RosinedUp: If you're ever trying to get a sneeze out, and can't, try looking into a light, and it will make you sneeze. Ever heard that?
If music be the food of love, play on;
Give me excess of it ..(William Shakespeare in Twelfth Night)

TerryT
Coleshill, Warwickshire
November 5, 2013 - 11:17 am
Member Since: December 15, 2011
Forum Posts: 1728



January 3, 2014 - 12:25 am
Member Since: August 22, 2011
Forum Posts: 485

Offline
Jan 2/3, 2014
…
RosinedUp:  Okay, on the G string: in first position the first finger plays A.  In fifth position the first finger plays E, same as the first finger in first position plays E on the D string.
Picklefish:  no, The first finger on F on the E string then reach over and play the C on the G string without lifting the first finger off the string.
RosinedUp:  So shiftiing up to fifth position, each finger plays what it would play on the D string in first position.
Picklefish:  thats what he said, just on a string lower.
RosinedUp:  Well, shifting to fifth position is the same as moving up one string, if no strings are played open.
…
Picklefish:  I believe that in order to play the same notes as D string first position, you would be in fifth position on the G string and the finger pattern is the same as if you were in first.
....
If music be the food of love, play on;
Give me excess of it ..(William Shakespeare in Twelfth Night)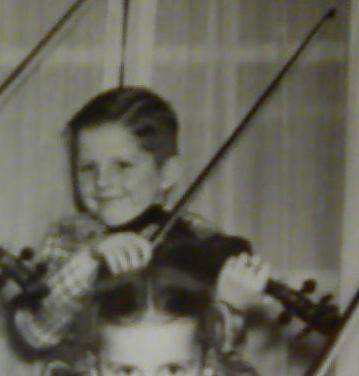 January 3, 2014 - 5:52 am
Member Since: January 21, 2012
Forum Posts: 2647

Picklefish
Merritt Island, Fla
January 3, 2014 - 2:39 pm
Member Since: June 25, 2012
Forum Posts: 1281

HDuaneaz
Chandler, Arizona
January 9, 2014 - 12:36 am
Member Since: February 27, 2013
Forum Posts: 239

Offline

January 9, 2014 - 12:50 am
Member Since: January 19, 2013
Forum Posts: 113


January 15, 2014 - 10:08 pm
Member Since: August 22, 2011
Forum Posts: 485

Offline
Today IST 8.13 A.M
Fiddleandbow:  check out Fiddlershop, Todd
Fiddleandbow:  You can call Pierre there during the day
Todd: yes... but they have various brands and some of them are no good (based on Amazon reviews that is)
Fiddleandbow:  If you live in the USA
Todd: I live in USA
Fiddleandbow:  Call Pierre at the Fiddlershop,,, he won't steer you wrong
Fiddleandbow:  he'll be totally honest with you
Todd: cool, ill give it a try.
Todd: too late now though... will have to call tomorrow
Fiddleandbow:  you'll find the phone number in the website
Todd: ok thanks
Fiddleandbow:  954-530-5999
Fiddleandbow:  A guy named Mike will answer,, that's Pierre's son, ask to speak with Pierre, explain why you want to talk with him
OctaveRay:  Todd I bought a Cecilio CVA 500 14" viola through Fiddlershop  that failed about 3 weeks after receiving it. Pierre arranged a replacement over a holiday weekend so he stands behind what he sells. I bought that one as an experiment and I knew going in it was low end
Fiddleandbow:  He does stand behind what he sells
Fishnrodds:  shipping is awesome also, i buy stuff there
Fishnrodds:  never had any issues
Todd: thanks for the advice  (IST 8.21 A.M)
If music be the food of love, play on;
Give me excess of it ..(William Shakespeare in Twelfth Night)

Forum Timezone:
America/New_York
Most Users Ever Online:
696
Currently Browsing this Page:
1
Guest(s)
Members Birthdays

Today
fryserisnon8, Violinista Italiano
Upcoming
PaTooDoNaLD, Almandin, Picklefish, Tammy, Griff, sus49, Ogre, djroger, marcnaz, Cleverpun, VirginViolinist, Cearbhael, The Modesto Kid
Top Posters:
Mad_Wed: 2849
Barry: 2680
Fiddlestix: 2647
Oliver: 2439
DanielB: 2379
damfino: 1992
Kevin M.: 1971
cdennyb: 1815
ELCBK: 1760
TerryT: 1728
Member Stats:
Guest Posters: 3
Members: 27454
Moderators: 0
Admins: 7
Forum Stats:
Groups: 16
Forums: 75
Topics: 8990
Posts: 111737
classicalbeast, Kaleun, kanishkd4, RSorderfans, dillon, grpark
Administrators:
Fiddlerman: 15407, KindaScratchy: 1756, coolpinkone: 4180, BillyG: 3571, MrsFiddlerman: 2, Jimmie Bjorling: 0, Mouse: 2877
©
Simple:Press
—