A
A
A



Topic RSS

Choking up on the bow





(0

votes)

Ripton
Vermont, Massachusetts or somewhere in between
March 14, 2015 - 8:08 pm
Member Since: November 2, 2014
Forum Posts: 487

Offline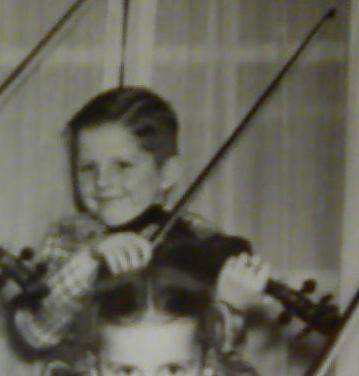 March 14, 2015 - 11:31 pm
Member Since: January 21, 2012
Forum Posts: 2647
A lot of fiddler's do this for speed.  Country, blue grass, Irish music are a couple types of music some fiddlers do it for.
I find myself "choking" up on the stick at times by mistake. I hold my bow so loose that my hand will inadvertently slide up the stick, then I find myself trying to finger walk the bow back to normal position while still playing.
It's tricky, lol.
Ken.
March 15, 2015 - 8:02 am
Member Since: April 22, 2012
Forum Posts: 450


Not sure if that is what it's called, but it's what we called it in baseball when gripping the bat up high. Holding the bow well above the frog leaving almost 2 inches of hair behind the hand.  

Is there an advantage to doing this? 
Actually, none at all. If the bow is held properly and used at the correct point, you can bow anything at all. 'Choking' is simply compensating for an incorrect bow hold.
There are disadvantages to 'choking' - contaminating the bow hair with your fingers, and shortening the effective length of the usable bow.
Mr Jim 


March 24, 2015 - 6:15 am
Member Since: January 18, 2012
Forum Posts: 347

Offline

coolpinkone
California, the place of my heart
March 25, 2015 - 2:39 pm
Member Since: January 11, 2012
Forum Posts: 4180






March 25, 2015 - 5:31 pm
Member Since: April 22, 2012
Forum Posts: 450


'Choking' is one of those things that's often discouraged. Especially for myself, when I get hungry, then eat a tin of tuna, forgetting to open the tin and just eat try to eat the whole lot together

'Choking' on the bow I would discourage too, for the reasons I mentioned earlier.
The argument for / against is quite common, and I come across this kind of thing quite a lot. There's a lot of music you can easily play with a short or choked bow, without it having much effect on the music (although the tone would be different). So, you see a lot of fiddlers with this hold and they play their fast and furious music very well.
The 'choke' is a limiting factor. Let's put it this way. You could tape your left-hand little finger so it becomes unusable, and still play a lot of tunes with just 3 fingers. Fine, but if you come across a tune that really needs the 4th finger, you're impacted, and you need to make adjustments.
Same with the short bow. Some tunes (slow airs, etc) are going to require the full bow length, so whilst it would still be possible to play these notes with a short bow, it's simply making things more difficult.
Just because its possible to do something a particular way doesn't mean it's OK.
Just because a particular / well-known player does it, doesn't necessarily make it good practice.
Guitarist Django Reinhardt played amazing music with only two usable fingers for melody notes on his left hand. Would you tape up two of your fingers to attempt to emulate his sound?
Mr Jim 


Forum Timezone:
America/New_York
Most Users Ever Online:
696
Currently Online:
Gordon Shumway
Currently Browsing this Page:
1
Guest(s)
Members Birthdays

Upcoming
Mad_Wed, Reacher, Andrew, Prudence, Lenicus, wookieman, ButteryStuffs, Gil, kit, makinnoise, wisco kid, Longstride46, Nathalie, marta, klezmerkat, vocaliw95, winxart, nancyjoshua
Top Posters:
ELCBK: 3154
Mad_Wed: 2849
Barry: 2680
Fiddlestix: 2647
Oliver: 2439
DanielB: 2379
damfino: 1992
Kevin M.: 1972
ABitRusty: 1913
cdennyb: 1815
Member Stats:
Guest Posters: 3
Members: 28438
Moderators: 0
Admins: 7
Forum Stats:
Groups: 16
Forums: 77
Topics: 9334
Posts: 116839
Administrators:
Fiddlerman: 15724, KindaScratchy: 1757, coolpinkone: 4180, BillyG: 3675, MrsFiddlerman: 2, Jimmie Bjorling: 0, Mouse: 3478
©
Simple:Press
—