A
A
A



Topic RSS

Rhytm v Intonation





(0

votes)

December 25, 2015 - 3:20 am
Member Since: January 10, 2014
Forum Posts: 60

Offline
Hello! Merry christmas!
After 7 months without a violin, I decided to play a violin again yesterday. The problem now is that I cannot control my rhytm and intonation at the same time. When I'm concentrated on intonation, rhytm always goes wrong and vice versa. There seems to be no way to control both at the same time. Any solution?

BillyG
Brora, North-east Scotland
December 25, 2015 - 5:24 am
Member Since: March 22, 2014
Forum Posts: 3675








And a Merry Xmas to you !

I don't know really - but here's some suggestions - 
Maybe you "expect too much all at once" - go back to open string bowing.  In sequence - spend time bowing SLOW full bow strokes, partial bow strokes and short (like 1 inch or less movement) strokes - and just get re-used to the "feel".   Forget about intonation for the moment.
Rinse, repeat, but bow faster.
Next, get re-used to bowing in doublets and triplets.
Once you're comfortable again - I suggest scales, scales and more scales - and I bet it will suddenly all come back to you !!!!
Good luck !
I seriously recommend not copying my mistakes. D'oh - 
Please make your own, different mistakes, and help us all learn :-)

December 25, 2015 - 2:24 pm
Member Since: September 17, 2015
Forum Posts: 5

Offline

December 25, 2015 - 4:05 pm
Member Since: January 19, 2014
Forum Posts: 973

Offline

damfino
my own little world
December 25, 2015 - 6:45 pm
Member Since: July 23, 2015
Forum Posts: 1992





My teacher tells me to practice them separately. Sometimes just focus on the rhythm of a song, and ignore intonation mistakes, and other times work on just the intonation. Pick a focus for the practice, and then they will work together. Everyone's different, but right now that's what works for me. 
☆•*¨*•¸¸¸.•*¨*•☆•*¨*•¸¸¸.•*¨*•☆•*¨*•.¸¸¸.•*¨*•☆
World's Okayest Fiddler
☆•*¨*•.¸¸¸.•*¨* •☆•*¨*¨*•¸¸¸.•*¨*•☆

coolpinkone
California, the place of my heart
December 29, 2015 - 4:53 pm
Member Since: January 11, 2012
Forum Posts: 4180






Welcome back...seems that separately or slowing it down is the key.
I have one nemesis song.. (Swallowtail Jig)... I can NOT for the life of me maintain a steady tempo... 
I mean I am not the queen of playing in tune or in correct tempo.... I could stand to work on both a lot.
Cheeers.
Vibrato Desperato.... Desperately seeking vibrato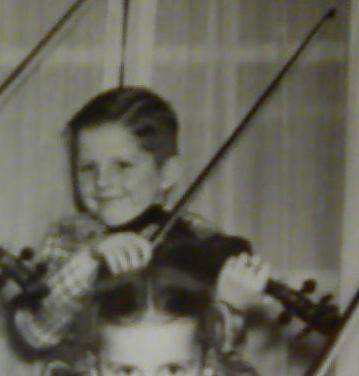 December 29, 2015 - 5:28 pm
Member Since: January 21, 2012
Forum Posts: 2647

February 1, 2016 - 12:52 pm
Member Since: January 10, 2014
Forum Posts: 60

Offline
Thanks for your advices, fiddlers! It is pleasure for me to communicate with you again
 Last try (1 year and 3 months) was not successful. I end up playing Vivaldi's summer 3rd movement somehow (bad intonation, rhytm, a lot of technique mistakes). This try (2 months) is much more better. I work hard on my technique. Now the technique is really good (I mean posture, fingers' placement and movements). I play scales 40 minutes per day in 1st, 2nd, 3rd, 5th, 6th positions. This produces incredibly good effect on intonation and shifting. I learn 'song from a secret garden', 'Swan Lake Finale', Dvorak's 'Humoresque'. The important point I get - I shouldn't try the pieces that are supposed to be played by professionals and not by amateurs after 1 year of practising violin. Im other words, ambitions must be limited by common sense. 

Forum Timezone:
America/New_York
Most Users Ever Online:
696
Currently Online:
Gordon Shumway
Currently Browsing this Page:
1
Guest(s)
Members Birthdays

Upcoming
Mad_Wed, Reacher, Andrew, Prudence, Lenicus, wookieman, ButteryStuffs, Gil, kit, makinnoise, wisco kid, Longstride46, Nathalie, marta, klezmerkat, vocaliw95, winxart, nancyjoshua
Top Posters:
ELCBK: 3154
Mad_Wed: 2849
Barry: 2680
Fiddlestix: 2647
Oliver: 2439
DanielB: 2379
damfino: 1992
Kevin M.: 1972
ABitRusty: 1913
cdennyb: 1815
Member Stats:
Guest Posters: 3
Members: 28440
Moderators: 0
Admins: 7
Forum Stats:
Groups: 16
Forums: 77
Topics: 9334
Posts: 116839
Administrators:
Fiddlerman: 15724, KindaScratchy: 1757, coolpinkone: 4180, BillyG: 3675, MrsFiddlerman: 2, Jimmie Bjorling: 0, Mouse: 3478
©
Simple:Press
—