A
A
A


Topic RSS

2014 Halloween PARTY
lets get scary people !!





(24

votes)

November 11, 2014 - 2:10 pm
Member Since: August 28, 2013
Forum Posts: 950





coolpinkone said
Awh @Feathers you have refreshed my memory.

I adore that song... My problem is that part at the end...(GASP!!!). a bit fast for me.  But I am glad you brought it up because it is in my stack and it is my goal to play that one.... as I looooooove it.  
You could just do Part A.  

Opportunity is often missed because it wears suspenders and looks like hard work.

BillyG
Brora, North-east Scotland
November 12, 2014 - 12:01 pm
Member Since: March 22, 2014
Forum Posts: 3438







Right.  I am not a happy bunny!   I "bit off more than I can chew" with this one.  I considered Carmina Burana.  Danse Macabre.   Nahhhh - all to easy (spot my sarcasm there).  Instead, I had a grand plan for my magnum opus - let's do a track from the Rocky Horror show !  Ahhh... nice, I thought.   I found a "not bad" MIDI version of "Over at the Frankenstein Place".  I planned several parts to it - to separately overdub Janet, Brad and Riff-Raff....  I even created an outline story-board - no sheet music or anything like that - I was just gonna "wing it"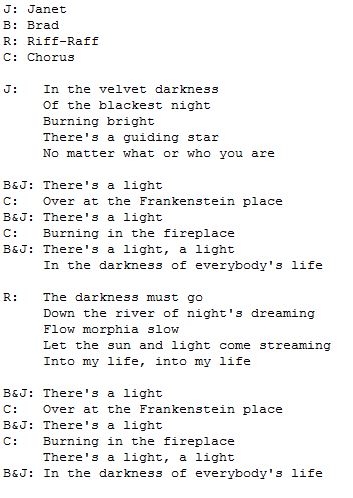 So....  I never take the path most often walked, do I ?   Nope.  Well, it turned into a monster.  I dropped the MIDI to D (it was in E).  But Riff-Raff needs a F3#, so I detuned G by a semitone.   I also wanted to bring something "new" (for me) into it - so I planned to work some higher positions for Janet - but that's still giving me trouble.  Anyway - I was reading @Worldfiddler post earlier today - and boy - was I getting MAD at this thing - so I "calmed down" (just a little) and did a quick take (no vid on it yet) of the tune from the first B&J / Chorus above.
  I'm FAR from happy with it.... VERY far from happy, it's full of issues, many of which are due to me being in such a bad temper with it, but, it's a line in the sand.  It will get better.....  When the final version, with video is ready to post, rest assured, I will, as I think I mentioned to @Barry NOT be dressing for the part...
 I'm off to play half a dozen "fall-back" tunes to get my head sorted out (oh, and Bill, RE-TUNE THE G) LOL
I seriously recommend not copying my mistakes. D'oh - 
Please make your own, different mistakes, and help us all learn :-)
Forum Timezone:
America/New_York
Most Users Ever Online:
696
Currently Online:
Mark
,
Gordon Shumway
Currently Browsing this Page:
1
Guest(s)
Members Birthdays

Upcoming
MaceCRO, visionsalchemy, Preanix, EJ-Kisz, laserbrainz, Writer, chendricks, Poke, DeeLight41, Ken Knapp, EricBluegrassFiddle, Zippo, tesfalcon, Skittles, Dan, Ty Pierce, jacarino, Jonand
Top Posters:
Mad_Wed: 2849
Barry: 2679
Fiddlestix: 2647
Oliver: 2439
DanielB: 2379
Kevin M.: 1971
damfino: 1967
cdennyb: 1815
TerryT: 1728
Ferret: 1575
Member Stats:
Guest Posters: 3
Members: 27289
Moderators: 0
Admins: 7
Forum Stats:
Groups: 16
Forums: 57
Topics: 8540
Posts: 106067
stu123, ClaireS, silverufcplayer, kimm, Temprance22, Temprance
Administrators:
Fiddlerman: 15154, KindaScratchy: 1754, coolpinkone: 4176, BillyG: 3438, MrsFiddlerman: 2, Jimmie Bjorling: 0, cid: 2092
©
Simple:Press
—