Welcome to our forum. A Message To Our New and Prospective Members . Check out our Forum Rules. Lets keep this forum an enjoyable place to visit.
Private Messages Not Working
The developers of "Simple Press" are aware of the issue with PM's and are working on it. Sorry for the inconvenience.
A
A
A



Topic RSS

Frustrated with playing? Check your strings?
New strings can help.





(12

votes)

January 14, 2022 - 3:03 pm
Member Since: June 10, 2020
Forum Posts: 6506

Offline
Have you gotten frustrated with your playing, but didn't understand why your fiddle just wasn't sounding that good anymore - or why it seemed harder to play? 
Maybe it's not you, or the fiddle. 
Maybe it's your strings! 
I had been feeling this way, frustrated with my playing, so finally decided to change my strings last evening - then played my violin. 
It was like playing a new, better quality, instrument! 
This is not a new topic, or unusual situation.  It's just that it AMAZES me, every time this happens - I him, hawed and dragged my feet when I had a feeling they should've been changed probably last month! 
It's only been 6 months, but I could feel and hear something was amiss.  My E string flat out didn't sound as good as I usually expect it should.  The other strings sound just didn't excite me and it kinda crept up on me that I started needing to apply MUCH more pressure with my fingers.  ...and, I don't want calluses!  Even cleaned the strings with alcohol - didn't make any difference, probably because I never really let rosin build up in the first place. 
Depending on how you play and how often, you could be setting yourself up for disappointment and frustration - if you leave your strings on too long. 
Btw, I use: "D'Addario Zyex Viola Short Scale" A & C strings, "Larsen Virtuoso Silver Wound/Composite Fiber Core" D & G strings, and "Pirastro Gold Label" E string - on my Glasser 5-string AEX Violin.  Premium Holstein Rosin has been my choice this past year - and I use it very sparingly, once every couple days. 

I do play every day, an average of maybe 1 to 2 hours. 
Now, I'm all warm & fuzzy again - strings all ring beautifully and they feel soft to touch. 
I don't need to press hard to get a nice tone. 🥰 

So, if you've been playing for 6 months you might want to consider changing your strings.  It can make a HUGE difference in how you play and sound!  
That alone, is good motivation to play more often. 🤗 

- Emily

January 14, 2022 - 7:25 pm
Member Since: April 29, 2019
Forum Posts: 46

Offline
Thanks for posting this Emily.
This is so so true for most stringed instruments when I was a teenager I would get into a rut and stop playing guitar for months at a time and never understood being the quick learner I am I finally figured it out by the age of 23 or there about.

Today I have a totally different problem that is keeping up with all my instruments.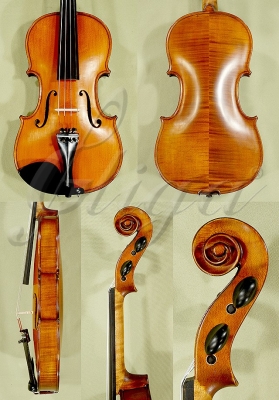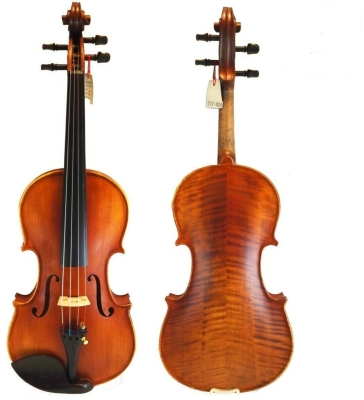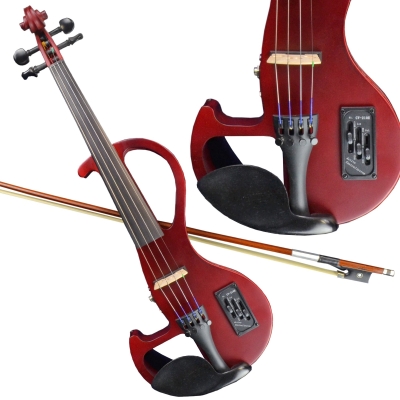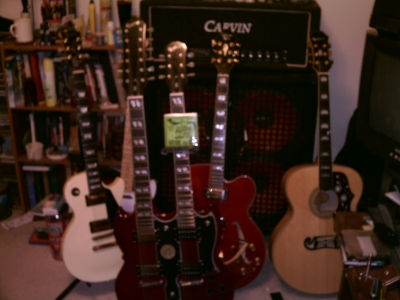 January 15, 2022 - 12:41 pm
Member Since: June 10, 2020
Forum Posts: 6506

Offline
@Tim317 -
That's a lot of strings!  
Which are your top favorites?
I like the cello, but when I saw the price of Cello strings, it immediately squashed my interest in playing that instrument. 

assuming you only play maybe part of each day and spread your time around on different instruments, does that mean you only have to change strings once every 10 years? (lol)
...unless you are a 'Ling Ling' - and you play 40 hours a day!  🤣
- Emily

January 15, 2022 - 5:31 pm
Member Since: September 30, 2014
Forum Posts: 1973

Offline

January 15, 2022 - 6:44 pm
Member Since: June 10, 2020
Forum Posts: 6506

Offline

January 16, 2022 - 8:51 pm
Member Since: June 24, 2020
Forum Posts: 1262

January 17, 2022 - 8:51 pm
Member Since: April 29, 2019
Forum Posts: 46

Offline
Not sure if you were asking which is/are my favorites out of all those instruments but the violin in the second picture is it and when I bought it I had intended or at least assumed I would be sending it back and that is why I bought it.
I suspected it was one that had the flames airbrushed on and then hit with clear coat if you look at the picture it looks like the back plate has 3 seams and that is why I suspected it was an airbrush job.
My intent was to make a video explaining why you should never buy violins from  non-reputable sources it was on Ebay so I hit the buy it now $138.00+free shipping I thought I'll eat the return shipping but I'll at least save other people from buying some unplayable piece of junk.
Boy oh boy 7 days latter I would eat those words in a big way!
I was not impressed by the way they packaged it up to ship but when I got the thing out of the case and looked it over it was the instrument in the picture for sure, what looked to be an airbrush job or like it had 3 seams was nothing but an optical illusion it was just the way the natural grain of that particular piece of maple came out and it is maple and the flames are real to.
But looks were just the beginning this thing has monster projection and sweet balanced tone no harsh tint to the sound tuning pegs that actually turn smoothly yet stay in place and hold the stings in tune excellent string spacing the bridge is generic but of a caliber of maple you would expect on a pricey name brand bridge with plenty of flecking in it.
I have no clue who made it all I know is who ever it was were trained well the seller was out of Massachusetts.
I did have to put new strings on it and used the stings that came on it to set the bridge up after I got the new strings settled enough to play I messed with it for five minutes  put it back in the case and got a cup of coffee and tried to wrap my head around what I had just heard and just played?
It certainly doesn't sound or feel like a $138.00 violin, needless to say two things didn't happen I didn't send it back and never made the video I intended to make.
As far as my guitars that line up has changed a good deal since 2008.      

January 17, 2022 - 10:09 pm
Member Since: June 10, 2020
Forum Posts: 6506

Offline

January 17, 2022 - 10:26 pm
Member Since: June 10, 2020
Forum Posts: 6506

Offline

January 18, 2022 - 9:37 pm
Member Since: February 10, 2019
Forum Posts: 3255

Offline

January 19, 2022 - 1:28 am
Member Since: June 10, 2020
Forum Posts: 6506

Offline

January 19, 2022 - 9:27 am
Member Since: February 10, 2019
Forum Posts: 3255

Offline
ELCBK said
@ABitRusty -

...may The Farce be with you. 🤐  

Don't know why 10 months on the same strings should be a concern - you went for some long stretches where you couldn't get any playing time in. 😊

 

 

 

"Coruscant" (Imperial home world) by John Pompeo. 

 

- Emily

  
🤣
the farce is most definitely strong.   
yeah the amount of use isnt 10 months on the strings.  and from sept to jan not too much use.   BUT...may be time for some string cleaning..😆... get it?  cuz its gettin closer to spring.
nebermind

January 19, 2022 - 5:53 pm
Member Since: June 10, 2020
Forum Posts: 6506

Offline

January 19, 2022 - 7:32 pm
Member Since: April 29, 2019
Forum Posts: 46

Offline
Emily.
I've been recovering from the second surgery on my left shoulder in three years.
My opinion and that of my doctor is this was a result of injuries from working construction one too many trips off of roofs so I had to have what can only be explained as barnacles removed from the ball of the arm and I'm just getting back in shape to be able to play after rehabbing.
Thank God that I have no real pain which surprises me as I really don't like the idea of pain pills and the ibuprofen was burning my throat and stomach.
I don't play every day usually every other or every other two days and more during the winter all of my violins really need a change though, I've been sticking to my dumb luck ebay violin and have for the four years I've had it.
The Electric is less than a year old and I came home from work and found box on my front porch and thought wow!
Some one else in in the hood must play violin, turns out a relative was being nosey and bought it for my birthday I really just wanted it for my night owl playing.
When I was beginning 6-8 months was usually change time for strings as I was in school learning at a rather ripe old age but I was using the dominant strings back then. 

January 19, 2022 - 8:34 pm
Member Since: June 10, 2020
Forum Posts: 6506

Offline
@Tim317 - 
Are you considering changing the brand/type of strings you use - maybe something other than Dominants?
Really glad you are able to play while you recover. 
Great you're able to stay clear of pain killers - they are insidious (I know, 1st hand). 
Maybe soon you'll feel up to joining us in the "Party Room"!  All Parties are open for you to join with a video of your playing, except the recent "Christmas Party". 
https://fiddlerman.com/forum/party-room/
...don't over-work your shoulder. 
- Emily

Forum Timezone:
America/New_York
Most Users Ever Online:
696
Currently Browsing this Page:
1
Guest(s)
Members Birthdays

Upcoming
Dax, Epiphany, Grunyon, Lullyfan, TonicScale, JuanFiddler, Violince, Doc Miller, Gjinja, Mariana, ibtonystark, callum bryne
Top Posters:
ELCBK: 6506
ABitRusty: 3255
Mad_Wed: 2849
Barry: 2687
Fiddlestix: 2647
Oliver: 2439
DanielB: 2379
Gordon Shumway: 2315
damfino: 2095
Mark: 1973
Member Stats:
Guest Posters: 3
Members: 31492
Moderators: 0
Admins: 7
Forum Stats:
Groups: 16
Forums: 80
Topics: 10288
Posts: 129720
Administrators:
Fiddlerman: 16296, KindaScratchy: 1760, coolpinkone: 4180, BillyG: 3744, MrsFiddlerman: 2, Jimmie Bjorling: 0, Mouse: 4611
©
Simple:Press
—