Check out our Forum Rules. Lets keep this forum an enjoyable place to visit.
A
A
A



Topic RSS

My Very First Violin
Show and Tell: my Mendini MV400 violin.





(0

votes)

May 10, 2013 - 10:39 pm
Member Since: April 29, 2013
Forum Posts: 7

Offline
I received my very first violin. I was hoping that it would come unharmed and it did...until I gave it some harm....to a string! LOL
When i looked at it I couldn't believe how small it was. I had no comparison so I was surprised to see its size. (4/4) Second, it is really light! It's feels so fragile so I know it will be in its case when not in use. (and away from my kid!) So i started to tune it using Fiddlerman's tuner online and unfortunately i broke the E. I'm sure its common for the inexperienced like myself. The peg would not hold it in tune and then i guess I turned it to much and pop! Luckily it came with all the spares so I put the new E on, which wasn't too hard to do but decided not to tune as to not break it again. I have a music store near me and will check with a violinist who can do a tutorial with me in person. (Hope its not too much) 
I originally wanted to get a purple violin but decided with the antique finish and i'm glad I did. I'm keeping it simple and traditional. For $60 from KK music thru amazon.com, it came with the violin, rosin, spare bridge, spare strings, padding bar and one bow. I love how it looks and can't wait to start playing without breaking strings. I noticed just by playing that the coordination of bowing and playing the strings with my fingers will be interesting. Practice makes perfect...I know.

Thanks for checking out my new baby.
Carolina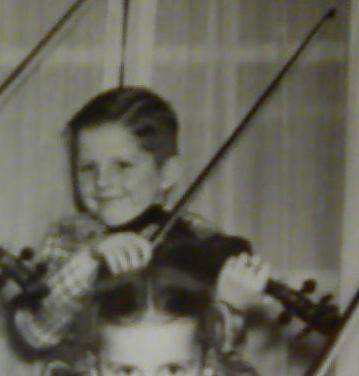 May 11, 2013 - 12:00 am
Member Since: January 21, 2012
Forum Posts: 2647
Welcome, Carolina;  Yes it not only happen's to the inexperienced, it happen's to seasoned player's as well.
There are ton's of video's online on how to tune your violin and what to do when one of the peg's won't hold. You need to push in on the peg while turning it. The E string is very thin / fine and will snap in a heartbeat if tightened too much. Turn the peg until you are very close to the pitch you want, then tweek each string using the fine tuner's.
The string's that come on / with an inexpensive violin are usually steel core string's and should probably be changed to synthetic core string's. However, it's not imperative that you do this immediately, but in the near future as you will get a nicer sound from your new baby, she's a beauty alright.
Good luck on your new endeavor and be sure to practice technique.    

Ken.  

Rattus Norvegicus
Cornwall
May 11, 2013 - 5:51 am
Member Since: May 5, 2013
Forum Posts: 92
hehe. I was surprised by how small they seem when you first pick them up and meet them up close too.
but they're all as they should be.
that's a nice looking instrument for the price. mine was £33, so probably similar pricewise. and yours looks a little smarter than mine

I've found (and I started around the end of last month) that initially they are really difficult to keep in tune, even though I'm used to tuning guitars. but part of the problem is being new. I don't know if that's as much a problem with a better instrument, but mine is starting to settle down now, and the strings are staying in tune long enough for me to get them ALL in tune, and play for a while now. initially I couldn't get every string in tune at once, so I'd aim for getting close, then practice my bowing, and just go up and down through the positions, even though the sound is poor.
I'm now getting a few scratchy little tunes, and actually managing to get the instrument in tune.
I was also without an e string for a while. it's definitely worth considering getting the better strings on. some strings out there will cost more than your instrument


which surprised me, but then those kind of strings are not necessary as of yet.
when you get a bit more confident, some of the beginners sheet music here is very good, and explains where to find the notes easily.
have fun learning. I know I am.

Watchtower68
Fillmore Indiana,U.S.A
May 11, 2013 - 5:38 pm
Member Since: December 29, 2012
Forum Posts: 36

Offline
Welcome and congrats on the new instrument I can relate to the size and how delicate the instrument looks but you'll soon be amazed with the sound this instrument you got projects for its size.
Yes braking a string is common and it would be wise to go to your local store as the strings should be wound on to the peg in a certain fashion and also just because the bridge was standing when you got your violin doesn't always mean its positioned properly and if its not your violin will not tune properly from the get go,not to mention if its not set properly you can damage the instrument.
I broke both "G" strings I got with my first violin before I figured out that I'd let them back of causing them to unwind the windings around the core of the string and in the end they both snapped at the peg box.
And just as a matter of taste I would consider actually replacing the strings you have I'm certain their steel core but as I said that's a matter of taste and after reading up on strings I went with synthetics a good set be forewarned is pricey for the average person but they can last a good while depending on how often you play.
But do take to someone who can set it up for you as you will surely have a better experience than I did.

coolpinkone
California, the place of my heart
May 11, 2013 - 7:17 pm
Member Since: January 11, 2012
Forum Posts: 4168







August 11, 2013 - 11:25 am
Member Since: May 17, 2013
Forum Posts: 277



Forum Timezone:
America/New_York
Most Users Ever Online: 231
Currently Online:
51 Guest(s)
Currently Browsing this Page:
1 Guest(s)
Members Birthdays

Upcoming
Shell, Squiryl, Schaick, GlassTownCur, mcassidy2004, MyMing, CarolineNH, JamesRSmithJr, SethroTull86
Top Posters:
Mad_Wed: 2849
Barry: 2673
Fiddlestix: 2647
Oliver: 2439
DanielB: 2379
Kevin M.: 1969
damfino: 1907
cdennyb: 1814
TerryT: 1726
Ferret: 1575
Member Stats:
Guest Posters: 2
Members: 20559
Moderators: 0
Admins: 8
Forum Stats:
Groups: 16
Forums: 58
Topics: 7728
Posts: 96608
Newest Members:
dfczchuryic, kimah18, costumechuryic, Konstantinchuryic, WalterVop, dbrnfchuryic
Administrators: Fiddlerman: 14222, KindaScratchy: 1732, coolpinkone: 4168, BillyG: 2828, MrsFiddlerman: 1, Jimmie Bjorling: 0, SimplePressHelp: 0, peopleshost: 0