A
A
A


Topic RSS

Related Topics

Violin for beginning violinist
Looking for tips on starting to play the violin.





(1

votes)

November 6, 2012 - 11:58 pm
Member Since: November 6, 2012
Forum Posts: 2

Offline

ratvn
Kent, Washington USA
November 7, 2012 - 12:11 am
Member Since: October 14, 2012
Forum Posts: 550

Offline
rawrgs said
I'm trying to begin learning the violin, I'd prefer electric but i really don't know what I should do starting off. I have a maximum budget of around 700 dollars, and would like to know where to start. What kind of violin should I buy, what size, etc.
Welcome, rawrgs, you will find lots of information and help around here and there're lots of helpful and nice members.
You can go to fiddlershop.com and Fiddlerman has lots of options for you regarding choosing instrument and accessories.
Enjoy your stay and good luck in your venture.

November 7, 2012 - 5:31 am
Member Since: November 7, 2012
Forum Posts: 2

Offline
Hi,
Been playing about 8 months here. Bought a new Stentor student 2 on impulse and fell in love with it pretty quick. Practised as much as time would allow and I have plenty of that lol. Thought I was doing ok until a friend of mine said everything I played sounded like a funeral dirge. Classic mistake of not figuring out the proper finger positions it turns out. Used a tuner to mark the correct positions on the finger board and although everything sounds much brighter now a lot of the music I was playing has become redundant until I can figure it out again. Oh the joys of self teaching aye

.

November 7, 2012 - 5:43 am
Member Since: May 4, 2012
Forum Posts: 2379

Offline




Hi rawrgs.
Within the budget range you are talking about, you have more than a few options.  
I don't know as anyone can tell you for certain what you should get.  What you'll hear will tend more to what we would get, given the same budget.  So there will be some ideas to consider, and to think over as you are deciding what you actually will get.
Ok, so you feel you'd prefer electric.  In some ways, this particular forum (as well as most other violin forums) has a bit of bias towards acoustic violins.  I play both electric and acoustic, so I am going to suggest that even if you mostly want to play electric, consider spending part of your budget on at least a modest acoustic.  It doesn't have to be a great one, and as I recall, Fiddlerman carries a Cecilio acoustic that runs around 100$ that he feels is a good enough instrument to get a beginner started.  I feel there are a number of reasons for having both electric and acoustic. 
First off, some sounds/techniques are just easier to get on one than the other.  But once you can get the sound on either, it is usually pretty easy to get on the other as well.  Acoustics are great because they are so portable and they have the "traditional violin sound" for when you want it.  Everything you need is right there in the case.  Electrics are also great, since you can play them any time day or night (they are very quiet when used with headphones or just not plugged into an amplifier) and you can try them with different effects made for instruments like electric guitar.  
But if you have both, then you have all the options.  To me, it is also more fun.  Playing on both, I feel I may have learned some things a bit easier/faster, if only because I just end up playing more. 
For electric, you also need to consider an amp.  The bad news on that is that amps can be expensive and a lot of gear to have to lug around.  But the good news if that there are quite a few nice amps even around 100$ that can do a good job.  If I was starting out, I'd look at something like a Fender Mustang or Frontman.  Get one of the models with reverb/delay built in, and that have both drive and gain controls, and you will have quite a lot to work with so far as things you can do with your electric sound.  Even before you get around to trying effects pedals and such.
Doing a quick look on the net, something like this
It would be enough power for practice, jam sessions, and even some gigs.  10 inch speaker will have a reasonably good bit of low end when you need it, and there's really nothing on that amp that wouldn't be quite useful for even a beginning player.  It's a decent name brand with a fairly solid rep, and not likely that even if you buy something bigger and nicer someday that you'd ever want to just throw it away.  Useful enough.
Okay, so that's about $200 of your budget right there.  I'd say lop off another $100 for some nice strings, good rosin, a decent "patch cord" to connect the electric to the amp and maybe an electronic tuner. 
Okay, so that would bring us down to about $400 for the electric violin.  There are quite a few electrics in that price range.  On the Fiddleshop that Pierre (Fiddlerman) runs, you could get one of the "Plug&Play" ones for that.  You might find something you like even better if you shop around a bit.  But another option (the one I would probably do myself) would be to buy one of the less expensive CEVN models (just going with what is available on Fiddleshop, for the sake of argument).  There are people here that play them, and at least one experienced player here has mentioned that the balance is good and thy play pretty nice. 
That would leave you with about $250 that you can set aside and spend on things like a nicer bow or some effects or if you need replacement strings or want to try a different set of strings or whatever.  But it would be basically for those things that you don't know you need until you actually get playing and then decide you want.
So that is what I would do.  It won't be the same as what other people here would do, and probably not exactly what you'll end up doing, but maybe there's an idea or two that you hadn't considered that may be of use to you.
And welcome!  Violin is a very fun and cool instrument and this is a very good online community.  However you decide to spend your money, I think you're in for a lot of fun and for some memorable good times here.  Pleased to meet ya!
"This young wine may have a lot of tannins now, but in 5 or 10 years it is going to be spectacular, despite the fact that right now it tastes like crude oil. You know this is how it is supposed to taste at this stage of development." ~ Itzhak Perlman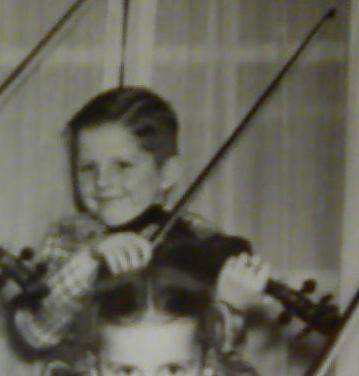 November 7, 2012 - 6:33 am
Member Since: January 21, 2012
Forum Posts: 2647

November 7, 2012 - 11:44 am
Member Since: November 6, 2012
Forum Posts: 2

Offline
Thanks a lot for the advice, If i end up with going for an electric id prefer solid body, but I will try both. I'll probably take DanielB's advice and try both. I'm going to go to the local violin shops and see if I can try my hand at them, and see which i prefer. Im around 6'1", so i guess that means i'd need a 4/4 violin. I'll have to get my parents to help me out, as when i tried the electric guitar they refused to take me anywhere for lessons, (that was 4 years ago), but now i'll be driving soon and can take myself without having to deal with getting them to take the time out of their schedules.

November 8, 2012 - 9:40 am
Member Since: January 24, 2012
Forum Posts: 34

Offline
I have the cecilio cevn style 1. Electric violin that came with case, bow, strings, small rosin, amp cable, headphones and maybe a battery (can't remember.) [You may also need an adaptor plug on the amp. In case the male end on the amp cable isn't big enough.]
I really like it. and it cost me about AU$140 on ebay.
Though I think you can buy through fiddlerman here and he checks everything is all good. I missed out on that option.
Also chances are he has strings and every thing cheaper at his shop. I live in Australia and it is cheaper to buy off him even if I had to pay double.
It is a nice violin to start off when you are a complete novice.
Oh another thing on the amps. I have a guitar amp and it hates my violin. I spend ages trying to get a sound out and often I only get a few notes here and there.
Some people say a keyboard amp is better for violin. Though if you have the dosh you can splash for a violin amp.

Picklefish
Merritt Island, Fla
November 9, 2012 - 6:42 pm
Member Since: June 25, 2012
Forum Posts: 1281

November 12, 2012 - 9:13 pm
Member Since: January 18, 2012
Forum Posts: 347

Offline

November 15, 2012 - 6:39 pm
Member Since: January 18, 2012
Forum Posts: 347

Offline
Start with a decent student acoustic. If you want to go for lessons it is easy, you just carry the fiddle rather than fiddle + amp + speakers, etc. As you progress you may want to do what I did and join an amateur orchestra. From my experiences it fits in as most violinists will be playing acoustics and many orchestras may not accomodate an electric.  As Fiddlerman suggested, use a mute if you must keep it low during certain hours. You can always add a pickup if you want to go electric or, buy an electric later on. But if you do decide to go electric right from the start the good thing is there are a lot of decent electrics and they don't have to cost too much.
Most important, good luck with whatever path you decide to take.

ratvn
Kent, Washington USA
November 15, 2012 - 7:31 pm
Member Since: October 14, 2012
Forum Posts: 550

Offline
Fiddlerman said
Well you could get a solid steel practice mute for practicing silently. I had to do that pretty much the whole afternoon today. Someone in the house has a headache.
I admire and enjoy your playing throughout all the tutorial videos. Someone has a headache listening to it? Wow, I did not know that your music practicing causes that much problem....haha.

If you've ever decided to post them, let me know so I prepare some Advil with me ahead of time.

November 16, 2012 - 11:36 pm
Member Since: October 20, 2012
Forum Posts: 65

Offline

November 16, 2012 - 11:44 pm
Member Since: October 20, 2012
Forum Posts: 65

Offline

coolpinkone
California, the place of my heart
November 17, 2012 - 10:58 am
Member Since: January 11, 2012
Forum Posts: 4180







November 17, 2012 - 2:15 pm
Member Since: November 8, 2012
Forum Posts: 555

Offline

wanabfidler said
All info above. Is onthe spot. I'm over 40the and have a huge desire and determination to play so I've gone out and got what I want and may suck for the rest of my life but I like a challenge. Welcome aboard
I play horribly on my recording playbacks. So, I just don't play it back often. Now, I sound incredible.

"I find your lack of Fiddle, disturbing" - Darth Vader
Forum Timezone:
America/New_York
Most Users Ever Online:
696
Currently Online:
Fran
,
stringy
Currently Browsing this Page:
1
Guest(s)
Members Birthdays

Upcoming
Mad_Wed, Reacher, Andrew, Prudence, Lenicus, wookieman, ButteryStuffs, Gil, kit, makinnoise, wisco kid, Longstride46, Nathalie, marta, klezmerkat, vocaliw95, winxart, nancyjoshua
Top Posters:
ELCBK: 5714
ABitRusty: 2934
Mad_Wed: 2849
Barry: 2680
Fiddlestix: 2647
Oliver: 2439
DanielB: 2379
Gordon Shumway: 2204
damfino: 2079
Kevin M.: 1973
Member Stats:
Guest Posters: 3
Members: 31184
Moderators: 0
Admins: 7
Forum Stats:
Groups: 16
Forums: 79
Topics: 10093
Posts: 127245
Administrators:
Fiddlerman: 16205, KindaScratchy: 1760, coolpinkone: 4180, BillyG: 3741, MrsFiddlerman: 2, Jimmie Bjorling: 0, Mouse: 4334
©
Simple:Press
—