A
A
A


Topic RSS

Submissions Wanted!!!
Win a Fiddlerman Carbon Fiber Bow by sharing a good or funny video, story or blog.





(1

votes)

coolpinkone
California, the place of my heart
August 1, 2015 - 12:41 pm
Member Since: January 11, 2012
Forum Posts: 4180

Helvetika
The Paris of the Prairies Saskatoon SK Canada
August 3, 2015 - 11:47 am
Member Since: February 2, 2013
Forum Posts: 88

Offline
Hmmm, could this also be from the perspective of being a spectator?  Last month, I blogged about my  experience and new found love of the cello after being soooo close to the performers and their cellos, I could almost reach out and touch them.  Somehow it profoundly affected me.  and I could share that story, if appropriate.   I could still share it, but you wouldn't have to count it in, if it was off the mark.
Cindy (Helvetika)

damfino
my own little world
August 6, 2015 - 7:47 pm
Member Since: July 23, 2015
Forum Posts: 2095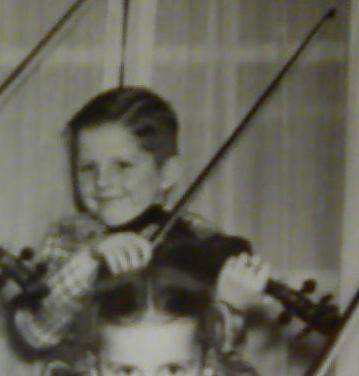 August 6, 2015 - 11:03 pm
Member Since: January 21, 2012
Forum Posts: 2647
Let me tell a story (a true story) of long ago when I was just learning to play violin.
I began playing violin at age 4, my mother rented me a violin for like $5.00 a month. At this time back in 1947 or 48 lessons were like $.75 per half hour (very expensive) for the times.
My mother worked at a "Howard Johnson's" restaurant at the time, the home of 28 flavors of ice cream, her wages weren't much during those years, right after WWII, money was scarce also, there were other waitresses robbing tips off tables they hadn't waited on.
Anyway, back to my story.
One night my mom asked me if I wanted to go to HOJO's and play violin for the kitchen workers and the other waitresses, (I was 6yo then). I hesitated from shyness, but I went anyways.
If I remember correctly I played, "Long Long Ago" and got a big applause from the staff. Not only that, but I was compensated with a double decker ice cream cone. So by receiving compensation for my performance, I guess I turned professional at age 6.
No?,,,,,,, HaHa.
I had to give up violin at age 10, do to the lack of $$$ and have just started playing again about 4 or 5 years ago.
I'll be 72 in September and proud of that too. 
Ken.

BillyG
Brora, North-east Scotland
August 7, 2015 - 2:36 am
Member Since: March 22, 2014
Forum Posts: 3744

August 9, 2015 - 1:47 pm
Member Since: May 31, 2015
Forum Posts: 39

Offline
Here's a little something I thought of at work:
The Hands Know
I practice the violin, trying to remember everything at once, growing frustrated.  I can't get my fingers to reliably go where I want them to.   Sometimes, when my focus is drawn to something else, bowing or rhythm, I hit the right notes without thinking.  Sometimes I play better when I don't try so hard.  It reminds me of my job.
I'm a Software Engineer. One of the projects I work on uses an ancient computer that requires a long sequence of button presses just to bring it up.  There is a pattern and rhythm to it, and I had been doing it for more than a decade when I was asked to work on something else.  A good five years after that, I was back.
I couldn't remember how to do it. I stared at the front panel of the computer, but nothing came to me.  Finally, I lifted my arms, and to my shock, I just did it, my hands flying over the keypads.   The renowned muscle memory, stored in the part of my brain that controls my hands.
To learn the violin, we have to make those memories, literally rewiring the brain.  There is no shortcut, only repetition.  Progress can come in fits and starts, but it will come. If you hit a plateau, don't give up. You are still learning, even if you don't see steady advancement.  At times, just let go and play! Maybe your hands already DO know!

Helvetika
The Paris of the Prairies Saskatoon SK Canada
August 9, 2015 - 8:43 pm
Member Since: February 2, 2013
Forum Posts: 88

Offline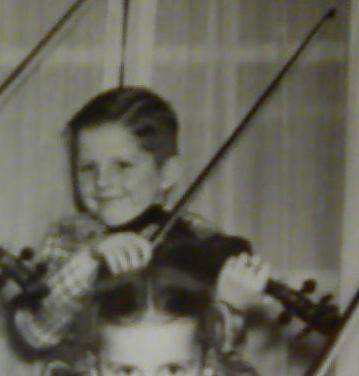 August 9, 2015 - 10:17 pm
Member Since: January 21, 2012
Forum Posts: 2647
Thanks, Cindy and BillyG..... yep it is a real pleasure to play again after all those years, although I have always had a violin within reach as there was always one in the house, but after age 10 I started guitar (playing by ear) and played that for 50 years.
You see, at about the time I quit violin was a time when violin was considered more of a girls instrument, (at least where I was) and the other boys made fun of another boy playing a violin. Got called sissy a lot and beat up too. So having to quit didn't bother me that much.
Then came the years of girls, I was more interested in girls than playing violin, then came marriage and again no time for violin playing.
I live alone now and can play anytime I choose and as loud as I want, no one to bother, except for "Harley", he's the little dog next door, he hears me playing and barks, not sure if that's a good or bad, haha. I'll be 72 in Sept., so I play everyday and for hours at a time, sometimes 7 or 8 hours while watching TV. I don't play anything in particular, I do a lot of bow work and smooth string crossings and slides.
So yeah, I''m happy to be doing it again, got a lot of years that I missed to make up for and I love playing anyway.
Keep practicing.
Ken.

August 10, 2015 - 11:29 am
Member Since: May 31, 2015
Forum Posts: 39

Offline

August 26, 2015 - 5:10 pm
Member Since: February 16, 2013
Forum Posts: 55

Offline
I'm not sure if it's anything like what you're looking for, Fiddlerman, but I have a journal I wrote when I made my official decision to learn violin back in 2013. I created a blog I was going to use to document my progress in learning violin but never got to it, so I guess I'll share this here first. I hope no one is bothered by all the spiritual references, but it had everything to do with my decision to learn.
"February 4, 2013
A couple of weeks ago my friends showed me a video of a girl dressed up as Link from Legend of Zelda that was pretty funny and cute. They mentioned that sometimes one of her songs will play on their Pandora station. A couple of days later, when Caj and LJ were at school, I decided to watch the video again. I really admired how happy she looked and her energy. I then listened to some of her violin music and was really moved by it. She was so inspiring. Here is someone who has found their passion. I want to find my passion, too.
I knew I liked dressing up as video game characters, and lately I've been planning birthday parties. I got the idea maybe entertaining kids at birthday parties would be good for me to do. That idea quickly faded away the more I listened to violin music. I realized, I want to play violin! I told Caj, and I'm pretty sure he wasn't as enthusiastic because I'm always discovering new dreams to pursue. By this time, I'm sure he's tired of me changing my mind. We went to visit our friends again, and they showed us another one of Lindsey Stirling's videos, this time of her playing violin. I started crying a little because I want to learn so much. Our friend told me not to feel too bad, that Lindsey comes from a rich Mormon family that can afford to give her violin, lessons, horse riding lessons, and produce amazing Youtube videos. We're all Mormon, by the way, so I'm not sure what his point was. Either way, I'm not going to let money get in my way. I'm a strong believer that poor people sit and talk about rich people's money, rich people find the money to accomplish their dreams. I'm not going to sit and think about how I could play violin if I were rich. I'll work. I'll sew my quilts and sell them to pay for lessons and a violin rental.
A few days later I went to a music store to look at their violins. Snap, they were expensive! Over $1,000! It was discouraging, but I'll find a way. After that I went to the Temple and prayed. I told Heavenly Father that I want to learn violin and asked for guidance. I'm tired of changing my mind about my dreams. I've tried art, writing, massage therapy, baking...the list goes on and nothing sticks. I want to know if this is the right thing for me to invest my time and money into before I get too emotionally invested.
After that it seemed as if everything has been pointing me towards violin. First, I've had the Parable of the Talents stuck in my head. I decided to study some lessons so I better understand the story. One lesson I found online from an LDS woman had a powerpoint presentation and a print out. The print out was a list of example talents to be read in class. The very first statement on the list was "You have the talent to be a fine violinist." My heart skipped a beat! It was like that lesson was especially for me.
Sunday was Fast Sunday. I don't even remember the last time I bore my Testimony in church voluntarily. All I know is it was before Young Women's. After that it was only because it was expected of me. Besides that and being asked to speak, I haven't done it in... I don't know, at least ten years. I always know I should get up, but I usually sit and think about what would I say until I run out of time. Well, this time that wasn't going to happen. I sat for a while, but my chest kept feeling hotter and hotter, and I knew that was the Spirit. I knew if I didn't get up, I would regret it. So I got up and bore my Testimony. Afterwards I got a lot of compliments, but my cousin Den also found me and introduced himself. He's been taking care of my Uncle in the ward, but I hadn't met him until now. Later that night, last night, I was having dinner at my Dad's house. We were talking about music and he tells me my cousin's son is in a band. I'm thinking it's an indie rock type band, and ask my dad to hear some of the music. To my surprise it's traditional Celtic music with the violin as the main instrument. Later I found out it's the cousin I met at church, whose son is playing the violin. All of these events are all just too much to be a coincidence.
In Doctrine & Covenants 9:8-9 it says:
8. But, behold, I say unto you, that you must study it out in your mind; then you must ask me if it be right, and if it is right I will cause that your bosom shall burn within you; therefore, you shall feel that it is right.
9. But if it be not right you shall have no such feelings, but you shall have a stupor of thought that shall cause you to forget the thing which is wrong; therefore, you cannot write that which is sacred save it be given you from me.
So I prayed again telling Heavenly Father my decision to learn violin. I don't know if I've felt a burning in my chest, but I feel I've had the furthest thing from a stupor of thought to make me forget.
I really hope I've made the right choice and correctly understood Heavenly Father's answer to my prayers. I guess the only way to know now is to have faith and move forward.
PS. Today is my Mother's birthday. She passed away when I was 17, so I really wish I could tell her Happy Birthday. I just hope I can turn this desire into a true talent I can use to make a difference in the world and make her proud."
A few months after starting to learn violin I had a miscarriage and the depression that came with it sucked away nearly all the passion I had to learn and play. Every once in a while I tried picking it up again, but I felt little for it and if anything, it added to the depression. I felt like I was slipping further and further behind where I was hoping to be in skill at that point, and was too embarrassed to make a video and show everyone how much I was failing. In June of last year I got the opportunity to host the Traveler, and was really hoping that it would be the spark I needed to get back into it. I was pregnant again at the time, and very sick, and just couldn't focus enough to play as well as I'd hoped. I have a beautiful, hilarious, 11 month old boy now and he is the greatest joy in my life, greater than I ever imagined could be possible. I've been thinking about the violin a lot lately, though, and though I regret not pushing through the hard times with it and missing some opportunities (one of which would have been performing Handel's Messiah for church - I lacked confidence and when I saw the performance realized no one there was professional and I could have learned a lot playing with other violinists), I'm not going to miss anymore time. When I decided to learn violin I was determined not to pick up another hobby just to let it fall by the wayside. I put a lot of thought and research into it before making the decision. There's a reason I felt so confidently it was right. So it's something I must keep up with and follow through with. I don't know what the future has in store, but I'm happy to be getting my passion for the violin back and I'm excited to see where this adventure goes.
"I don't play accurately - anyone can play accurately - but I play with wonderful expression."
Algernon Moncrieff (Oscar Wilde's "The Importance of Being Earnest")
Forum Timezone:
America/New_York
Most Users Ever Online:
696
Currently Browsing this Page:
1
Guest(s)
Members Birthdays

Upcoming
Sofia Leo, TKDennis, FiddleDetroit, CookiesViolin, Stephen, Bobby, Dorque, Elaisa, Michael Browder, EBurrell, Gordon Shumway, ViolinD, dougga, Russionleo, JohnG
Top Posters:
ELCBK: 6206
ABitRusty: 3127
Mad_Wed: 2849
Barry: 2687
Fiddlestix: 2647
Oliver: 2439
DanielB: 2379
Gordon Shumway: 2287
damfino: 2095
Kevin M.: 1973
Member Stats:
Guest Posters: 3
Members: 31244
Moderators: 0
Admins: 7
Forum Stats:
Groups: 16
Forums: 80
Topics: 10203
Posts: 128866
Administrators:
Fiddlerman: 16266, KindaScratchy: 1760, coolpinkone: 4180, BillyG: 3744, MrsFiddlerman: 2, Jimmie Bjorling: 0, Mouse: 4506
©
Simple:Press
—