• Please begin by telling us anything you would like to about yourself. Age, place of birth, residence, etc.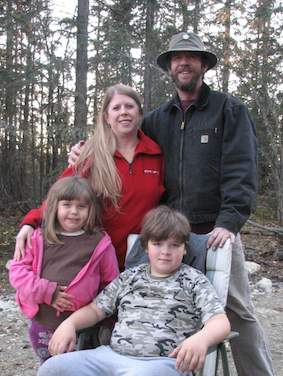 I was born in Northern Minnesota though we moved around all my life.  My dad was a gypsy.  I spent most of my youth in various places in the south though Oregon, Montana, and Colorado were some of my favorite places.  I am of Irish and German decent.  I moved to Alaska with my then 2 year old and 5 year old in 2003 when I separated from my husband.  We later got back together but he died of cancer in 2011.  I am 47.  I am in love with Alaska and will never leave.
• What made you decide to play the violin?
I've always wanted to play something, piano, guitar, what ever.  About 10 years ago after I arrived in Alaska, I decided I would love to learn to play the fiddle.  After all, it's so portable.  You can play it around the camp fire, on a mountaintop or in the woods.  It's light enough to pack out on a backpacking trip over tundra and small enough it doesn't take up much room in a small cabin.  But it was something I was going to do "one of these days".  You know, one of these days when I had more time, when I had more money, maybe once I get these kids raised….  And then at 53, my husband died.  He still had a lot of things he wanted to do "one of these days".  So I took the one time survivor's payment from Social Security of a whopping $255 and bought a used fiddle from a friend with a music shop and paid for my first lessons.  It's been a love affair ever since.  I am determined to not put things off anymore, until a vague "one day" that may never come.  One way or another I have always managed to come up with the money for my weekly lessons.

• How long have you been playing the violin?
I believe I bought my fiddle in November 2011.

• How often do you play? How long are your practice sessions?
Due to single mom syndrome, I have no where near as much time to practice as I would like.  I normally play several times a day but only for a short amount of time, in between homework and fixing dinner.  In between getting home from my daughter's roller derby practice and bed time.  I also practice when my kids are asleep at night.  On the weekends I normally get in longer stretches of practice though
• In your opinion, what's your proficiency on the violin?
Is advanced beginner an actual term?
• Your greatest personal experience with playing?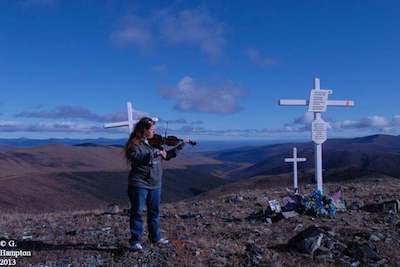 Playing to ghosts on a mountaintop, freezing my fingers off all by myself.  It felt very profound.  My husband is buried in Oklahoma so I can not play to him.  This is a very out of the way, difficult to get to place.  So I played for those loved ones who also could not visit their people's memorial spot very often.
• What other instruments do you play?
I played the clarinet in Junior High but didn't stick with it.  I tried to teach myself the guitar a couple of years after getting here but my kids were still little then and every time I brought it out they would rush to play too.  I did not remember how to read music and had to start over from scratch.
• What does music mean to you?
It's been a bit over two years now since my husband died and I am even more thankful that I have the fiddle in my life.  It's my solace when I am sad.  It is my buddy when I am happy.  It gives me strength when I am overwhelmed by parenting a special needs teenager or life in general.  It is my companion when I am lonely.  It gives me hope when I am depressed.  It gives me something to entertain myself when it is -40 outside and I can not stand to watch one single more show on Netflix (we don't get cable here.)  My instructor says I'm a bit obsessed with it but I figure that's a good thing when starting this late in life.
• What or who has been your greatest influence?
One thing about Fairbanks is that we have a lot of really good local music.  I'm not the only one entertaining myself through our long, dark winters.  These people are inspirations to me.
• What are your goals for playing violin? Short and long.
I guess I just want to take it as far as I can.  I don't have any goals to play on any type of stage but I would like to be able to play with other people.  I want to entertain my friends through our winters.  I want people to say "She was a good fiddle player." when I am gone.
• What type of violin training?
I take weekly lessons from a friend who is also a teacher.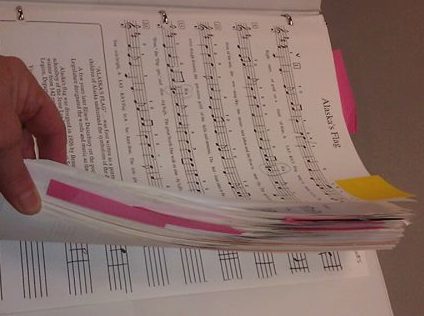 • How do you warm up?
Normally I use a compilation from my beginning book "The Scottish Folk Fiddle Tutor". Failte Rudha Bhatairnis (Welcome to the Point of Waternish, Lovely Stornoway, Coulter's Candy, and Twa Craws (Three Crows).  Then I do some bowing practice as I am trying to work on loosening my wrist.  Then I like to do something quick like Scotland the Brave and Turkey in the Straw.  Then I'll practice new pieces that I am working on or new techniques such as different bowing rhythms.  On the weekend or when I have more time, I'll go through my 3 ring binder of music and try to play everyone of them by memory.
• What is your favorite type of music?
Celtic and old time American folk, throw in a bit of bluegrass too.

• What is your favorite piece of music? Why?
Oh that is hard.  I think I would have to chose Lover's Waltz by Jay Unger though as that is the first thing I fell in love with after beginning to play.  I can play it but no where near as smoothly as I want to.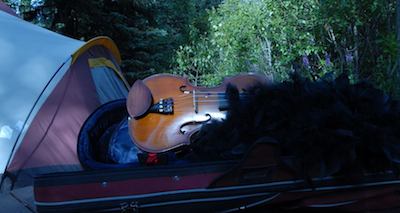 • What are your 2 favorite things to do other than playing violin?
Backpacking and camping.  I tend to go on backpacking trips alone but camping trips with others.  Mostly because I go backpacking to be by myself and "commune with nature".  Of course, Alaska is the perfect place for this (other then the bears!)  Also, I don't have very many friends who are up to backpacking.  I'm a minimalist by nature and they all love their creature comforts.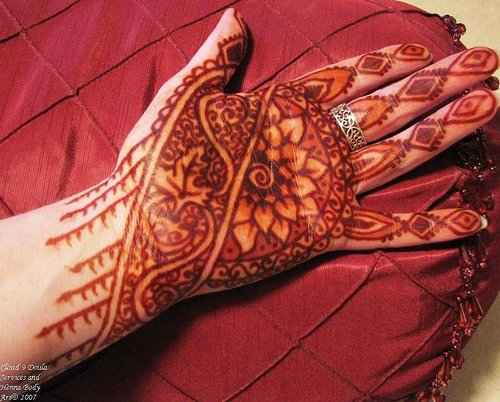 I am also a Henna Artist.  Henna is a plant based paste that when applied to the skin, leaves a stain that can last for a couple of weeks.

Oh I have three things.  I'm also an aurora chaser.
Taking photos of the northern lights requires a lot of skill and the ability to miss out on sleep while hanging out in the cold! Guess I should add photo hound in this section as well.
• Do you come from a musical family? If so please tell us about them.
Well yes and no.  Apparently one of my grandfathers was a fiddle player of great local demand.  I also had an uncle who played but I never knew it.  My grandfather had passed before I was born.  My older sister was very musical and played piano, flute, oboe, piccolo, baritone sax, in the Jazz Band in high school ect.  But she is the only one who stuck with it.
• Are you a member of any orchestra?
No and I don't care to be.  I would love to join in one of the local jam sessions we have here but as of yet have not worked up the courage or made the time to even go sit and watch.
• Do you ever perform publicly?
This is still an area where I do not work well.  I do perform in my instructor's recitals that are held twice a year.  But I am working on it.  Most of my friends are not interested in sitting and listening.
• What do you work with?
I'm not sure what this question is asking but from reading other member interviews, it seems as it is asking what my job is?  I work for an offsite location of our women's shelter.  Due to security reasons, I can't say more then that.

• Would you please share with us information about your violin and bow and if you have several please tell us about them as well.
I have a Stentor Student Violin and a carbon fiber bow.  It's a decent student violin but I am at the point now that I notice a difference in the sound quality between what I have and what people like my instructor is playing and am ready to move up to the next level.  Just saving my pennies as I am also saving for a new hunting rifle lol.  Yes I am Alaskan through and through.
This (below) is the farthest north I have played.  I went to visit my friend Susan Aikens for her 50th birthday.  Some of you know her from the show Life Below Zero.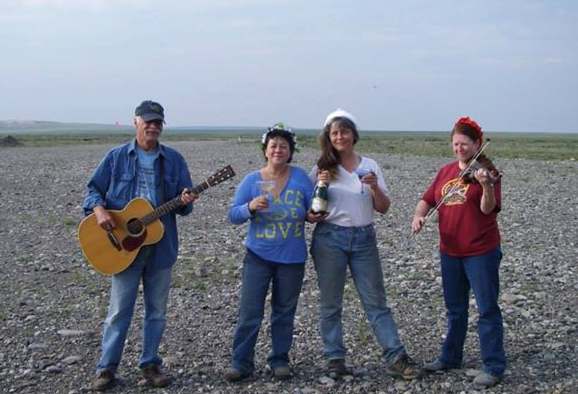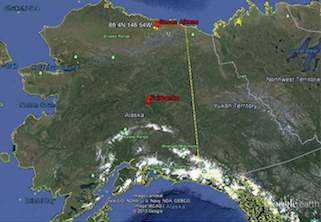 Here is where she lives, by herself.  Kavik River Camp, North Slope, Alaska.
Below is the southern most point I have played.  Homer, Alaska, last summer.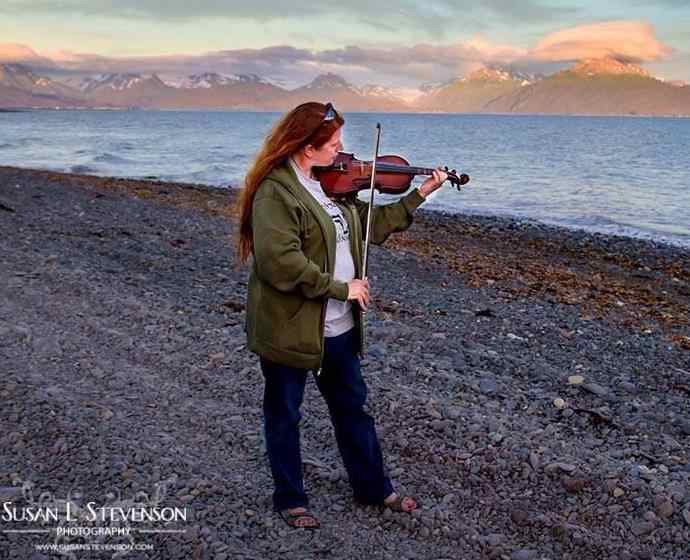 I also have a blog for my Alaskan adventures called Alaska, the Madness.
I am contemplating writing a book.  Many friends and followers have urged me to write one.  People seem to like reading about our lives in our little waterless cabin in the middle of the woods, in the middle of Alaska.  This is just a rental while we save up for our own little cabin in the woods but it is a sweet little homey place.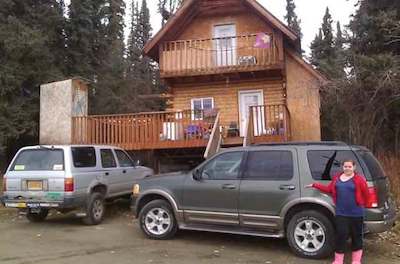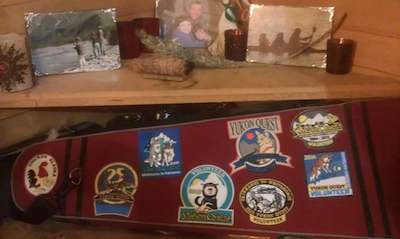 I combine my love of dog sledding and fiddling by putting my volunteer patches on my case.
These are from my work at Mile 101 Checkpoint of the Yukon Quest, our 1000 mile, international, dog sled race.  This was my 5th year of working at the check point.  It is the most primitive checkpoint of the whole race.
Well I guess that is me.  Hope you didn't fall asleep while reading it all.
Georganne