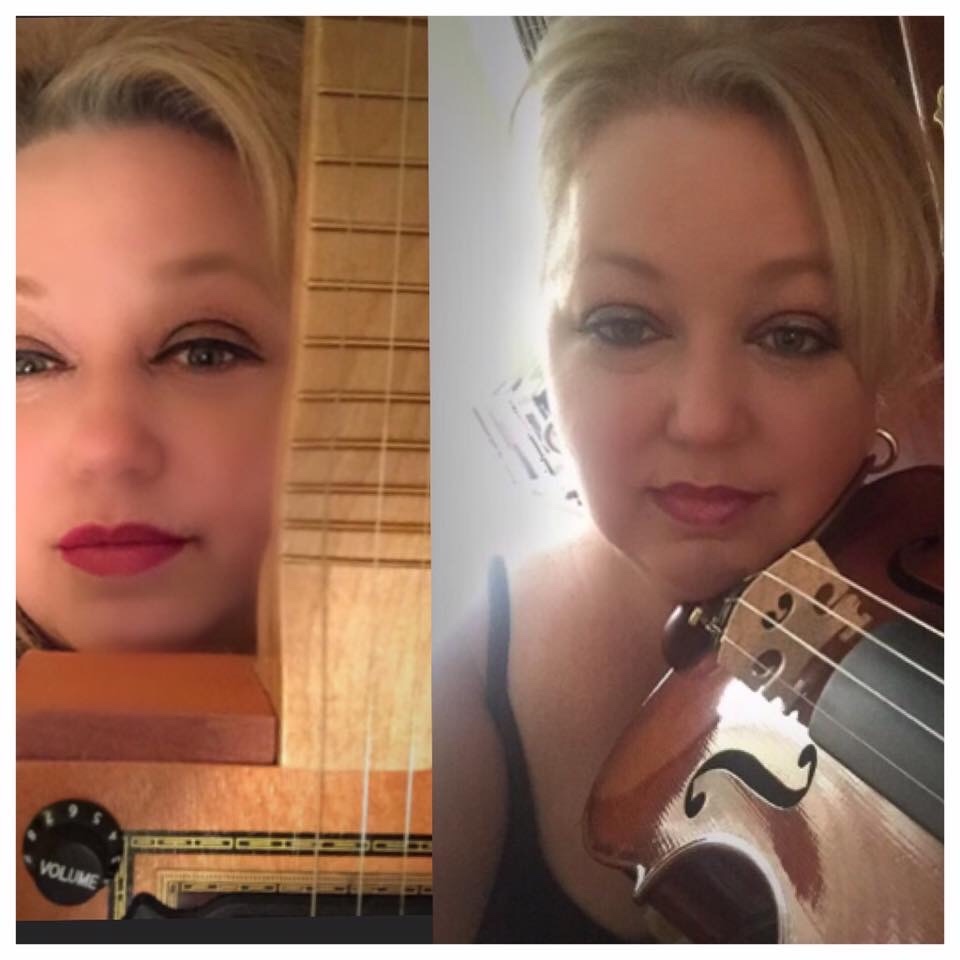 As a child music was a big part of my life.  We always listened to music, always.  If we were not outside playing, we were inside with albums and records playing, dancing and singing.
My sister was lucky to get violin lessons for a few years through the school.  I remember her playing and I used to sneak and hold the violin bow.  I loved the fact that it was horse hair.  Horses were a big deal and part of my family. ? I never played.  I was too shy to ask for lessons.
My neighborhood friend had piano lessons.  I would go to her house after her lesson and she would teach me.  She told me about middle C, and how to play little songs.   So pretty much my whole life I wanted piano lessons.  No piano, no lessons for me.  However so many houses where I grew up had pianos, I would play as often as I could.
My grandmother had an organ.  It was color coded and my sister would play the keys and I would push the chord buttons. We spent hours doing that until someone finally made us "shut up." Mostly Christmas songs.
Forward to 2011-2012 I was on a quest to get a piano, and get lessons.  I spent a lot  of time looking for a piano and lessons.  Out of the blue in 2011 I decided in October of that year that it was violin that I wanted to play.  I HAVE NO IDEA WHY.  I then started shopping for violins and I rented a Concert violin for about a year and bought it.
It was shortly after my violin arrived in December of 2011, that I found Fiddlerman's famous 99 dollar violin demo.  And that lead me to this site January 2012. I believe.
I made friends on the chat here and started learning.  I spent 5/7 nights a week on chat with my violin on the table nearby and chatting with friends. (Daniel, Den, Diane, John, Bill, Rosin, Juan, Kiara, Ray, Naska, Terry, Barry, Kevin, Paul, Fred, soooooo soooo many I could sit here and remember everyone…best of times)
Like Den, I wanted to take on Over the Rainbow. (Fiddlerman version)… By March of the same year I began private lessons, and by July I had my first recital. (Yes, I played Twinkle and Scarborough Fair with 7-11 year olds at 48 years old). I got to meet up with Dennis and play after Over the Rainbow and we learned Sad Romance and many other songs together.
Being painfully shy I quit my lessons.  I couldn't take the anxiety of playing, recording was hard, sharing was hard.  Heck, it is still hard.  But I found that sharing the music and even hearing critical input was always the turning point for a new break through.   I managed to do a few of the group projects, and post videos here on the forum and exchanged videos with Den and a few others.
The first year I was very very interested but I didn't connect like some of the adult beginners here.  Maybe I didn't have faith, or I was lazy?? I don't know.   The chat room here saved me.  So much violin, music talk and friendship… it literally opened so many doors for me.  I could ask questions and get help.
I also was not used to doing something and not being good at it right away.  The second year I got more involved.   I met a violinist friend and got to actually play with  an advanced player. She taught me many things, I am forever grateful for her. She had to move back to New York so it has been a painful while since I have gotten to play with her or hear her beautiful playing.
2014 – My wonderful best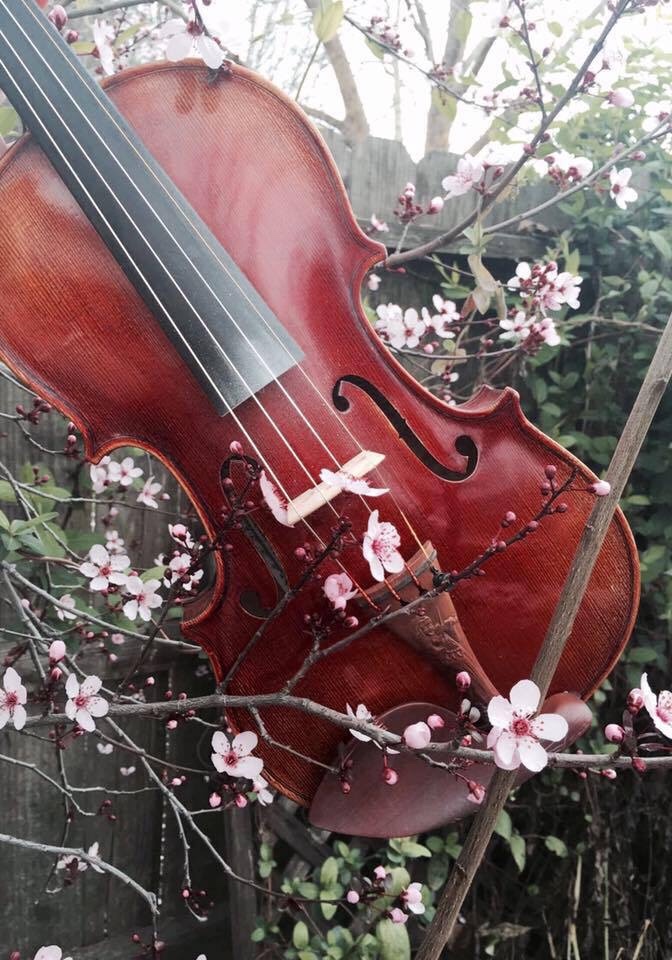 friend and violin partner  (CdennyB) bought me a Fiddlerman Soloist violin for Christmas, and carbon fiber bow.  That was the catalyst in my playing.  That was what gave me more direction and focus.  To be worthy, to make the sounds that I wanted, and to be worthy of that gifted violin.
2015 – I entered the journey with Electric sounds.  I got an electric violin, amp and mixer to enjoy making back tracks and exploring that world. Someday if I get my "studio" set back up, I plan to play more of that.
What I have learned from being part of a forum with many people from different back grounds, is that there is NO right way/wrong way.
Thoughts on playing… my own opinions.
Play music.  If you have specific goals pertaining to classical violin, then please do follow the tips from the players that play that music.  If you want to play fiddle music, find your favorite fiddler and find out how they play.  If you don't like how someone sounds, don't try to play like they do.
Learn to read music.  ( I also took a semester class on music to assist my journey, I also took an online class to assist me).  I still read in first position, and still play in first position… but I know I can go further.
When beginning to play, get the best violin you can afford, or borrow or whatever.  Don't let the thought of an inexpensive instrument stop your passion to play.
Play everyday.  Learn from a book / teacher or videos.  Also find a song  or two in your level that you love and play for fun everyday too.  ( I confess to playing a bit too much for fun… but that is my joy).
Learn to play by ear, learn to improvise.  Learn to share your music.  Never be ashamed that someone is judging you. (because they are… hahaha) I watch Hilary Hahn play and people criticize her.  That is my perspective.  TAKE RISKS
My violins.
Concert Violin – don't have any longer. (Violetta)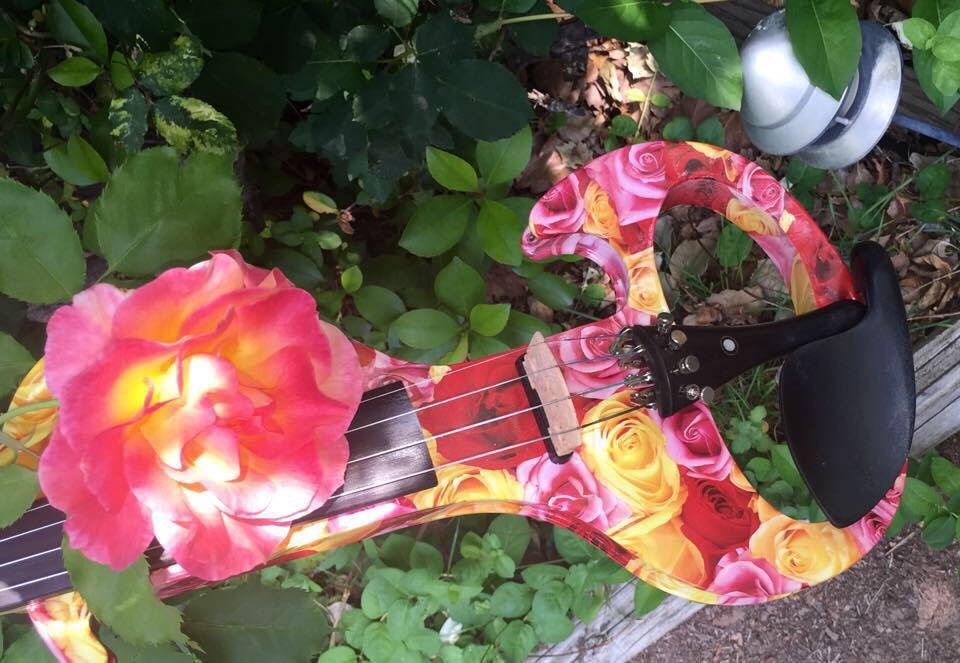 Pink violin – I have and the kids play with it. (Pinky)
German factory violin – gifted to Denn – (Gretta)
Soloist violin – Still have and adore, it's beautiful. (Noelle)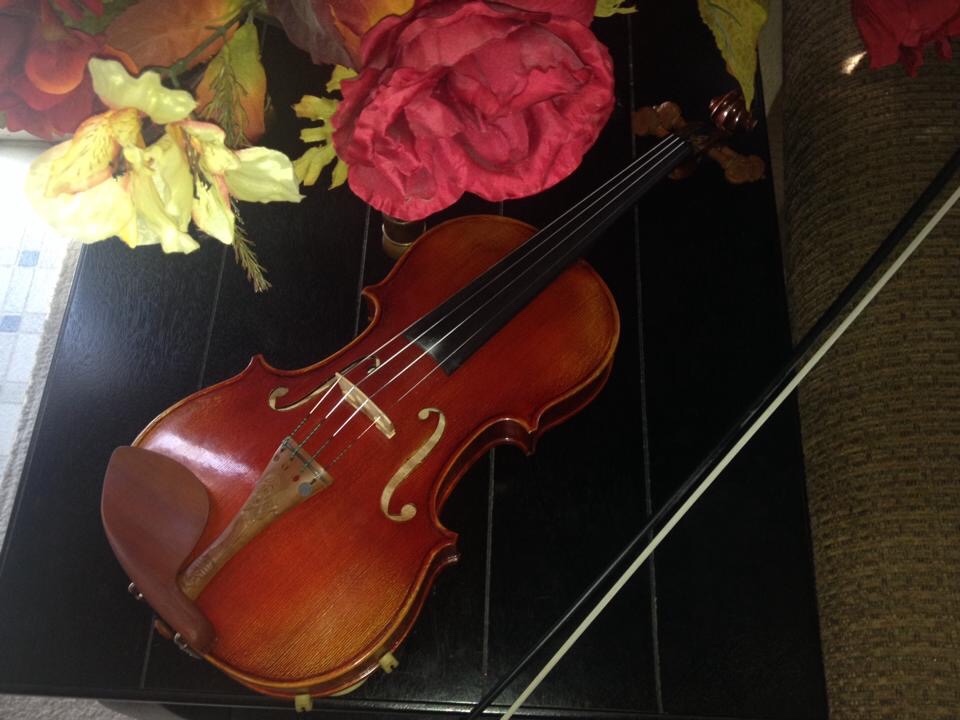 Kinglos Art Violin – Electric. Rosey (still have with amp and mixer)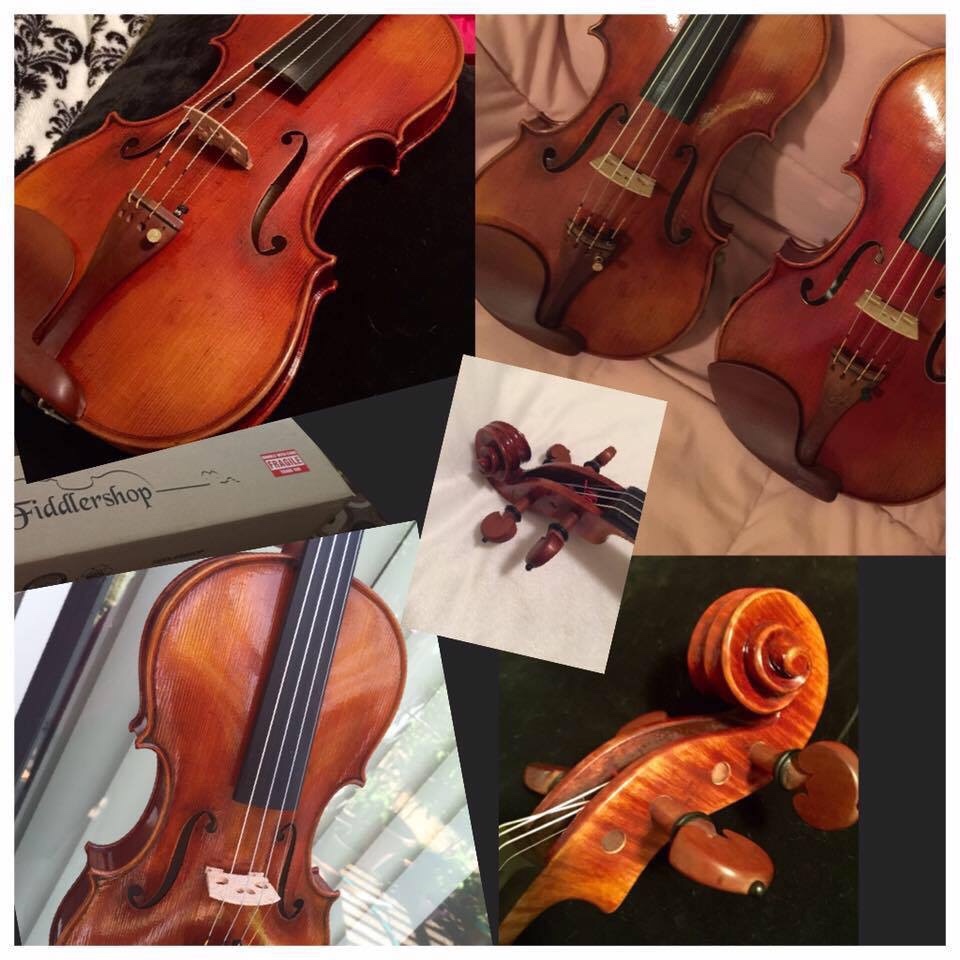 Ming Jiang Zhu – Bought for myself 2015 – My lovely, I just call her Ming.
I love the Fiddlerman Carbon Fiber  bow.  Most recently I bought the Holstein II Bow and I cherish it.  It makes a difference.  (I don't think it would have made a difference 3 years ago).
I had bought a lovely Cello. What I would give to have learned to play it.   But I couldn't seem to do both. By the time I sold my cello, I was even more into violin.  I had no time for Cello.
I have a guitar on loan from a friend here on the forum.  I need to get it back to him, as I didn't learn to play it.  I loved the open strum of it.  I had hoped to learn.  I didn't seem to do well, or have a Guitarman site. ?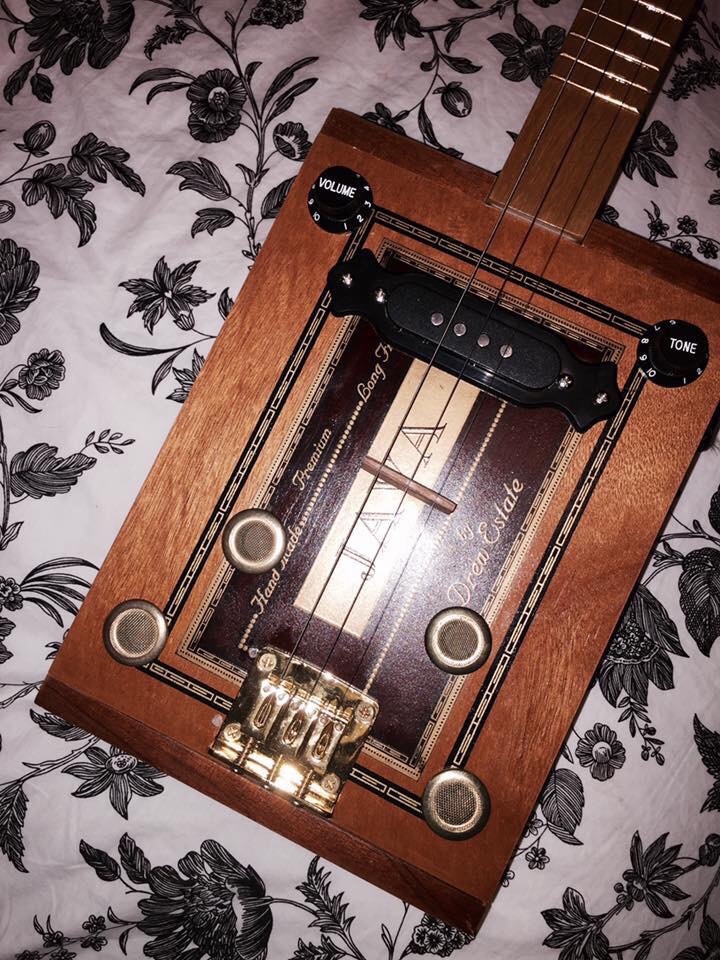 I wanted a cigar box violin, but  my friend Paul (I forget his forum name) told me about 3 string cigar box guitars.  Told me… "ONE FINGER CHORDs."  So I wanted to make one and I did.  I made five.  They are fun.  I didn't pick up playing like I wanted to.  I still have a part in my brain that says I will learn to play it.  And I found it cut into violin time and other pursuits.  Dennis helped me make them, made me tools, gave me so much information.  Shopping for Cigar Boxes is FUN!!!!
Now I simply play violin.  I have a big leap to make and I need to push.  I have the tools, the desire.   I can play a bit by ear.  I have all the lovely friends from the forum.
My number one advise to all is to FIND YOUR TRIBE with your instrument.  Find it, live it, play it.  Never give up.
Year one – exciting and new, chat and forum
Year two – sounding better, expectations, goals me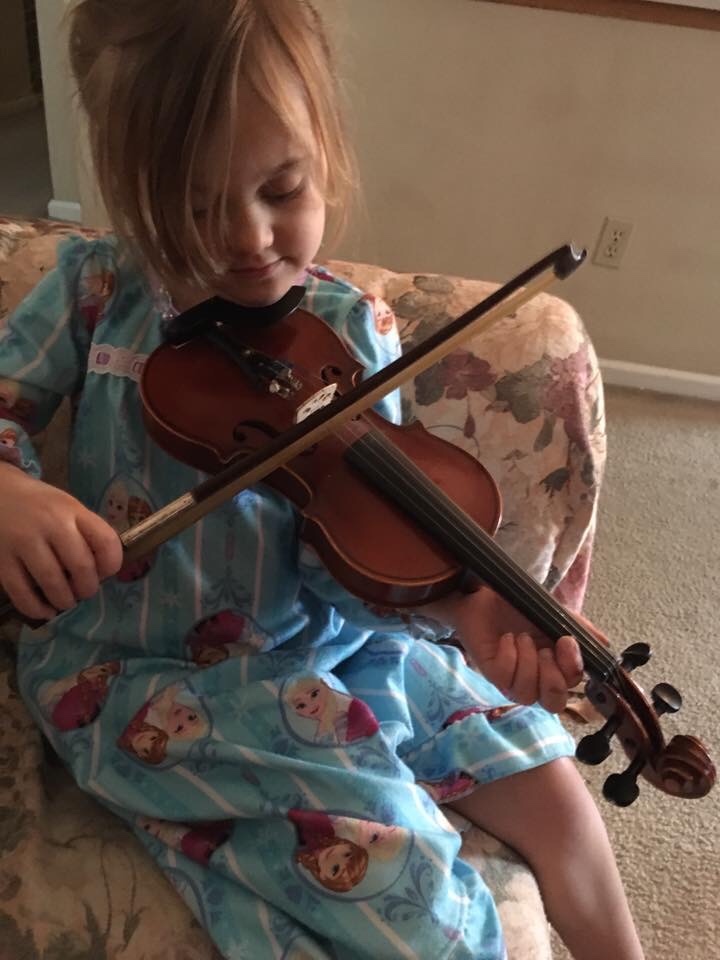 Year three – Time to get serious… well I played a lot. Street Jelly, projects, new violin
Year four – so many new songs, all the holiday songs, projects, Street Jelly
Year five – a lot of playing and progress and now I find myself wanting more from the instrument and myself and I am ready to give it even more of my all.
When I am not working or playing violin, I trail run/hike, make soap, knit, spin, crochet, cook and write.
I play violin with my grand daughters and my Basset Hound Dexter is the apple of my eye.

Never give up.